This is an archived article and the information in the article may be outdated. Please look at the time stamp on the story to see when it was last updated.
If you noticed a bright flash of light in the sky Tuesday night, you are not alone:
@simpsonwhnt @ChristinaWHNTwx Any reports of a fireball? Saw one traveling from NNE to SSW @UAH around 9:29pm #Valleywx #HUNwx

— Jonathan Beeson (@jbeeson122) September 20, 2017
It turns out that a fireball was captured on camera as it traveled over the state of Alabama.
"Two of our meteor cameras in the Southeast did pick up a fireball at 9:28:29 PM Central Daylight Time [Tuesday] evening," explained Bill Cooke, a researcher at the Meteoroid Environment Office in Marshall Space Flight Center.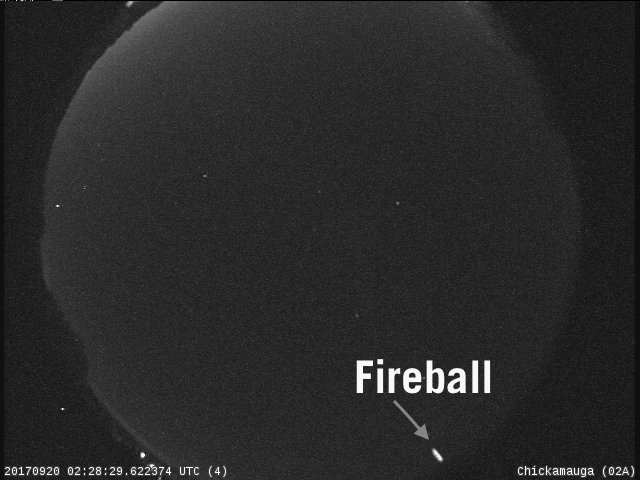 "The data indicate that the meteor first became visible 48 miles above some farmland just southeast of Orrville (located west of Selma), traveling to the southwest at 58,800 miles per hour."
"It burned up above the town of Crumptonia at an altitude of 28 miles. Don't think this one produced meteorites."
What is a fireball?
The American Meteor Society defines a fireball as a meteor that shines brighter than the planet Venus.
A meteor is a small piece of rocky, iron or icy debris flying in space that emits light as it enters the earths atmosphere. A meteor can be either a meteoroid (space debris that is one meter or less in size) or an asteroid (space debris that is one meter to hundreds of kilometers in size).
A meteorite is a fragment of a meteoroid or asteroid that survives passage through the earth's atmosphere and strikes the ground.