This is an archived article and the information in the article may be outdated. Please look at the time stamp on the story to see when it was last updated.
Huntsville hit 93ºF with a heat index at 100ºF before powerful storms blew through Thursday afternoon with wind gusts as high as 54 MPH at Huntsville International and 64 MPH in Holly Pond.  At one point over 20,000 Huntsville Utilities customers lost power Thursday, but those storms are long gone now!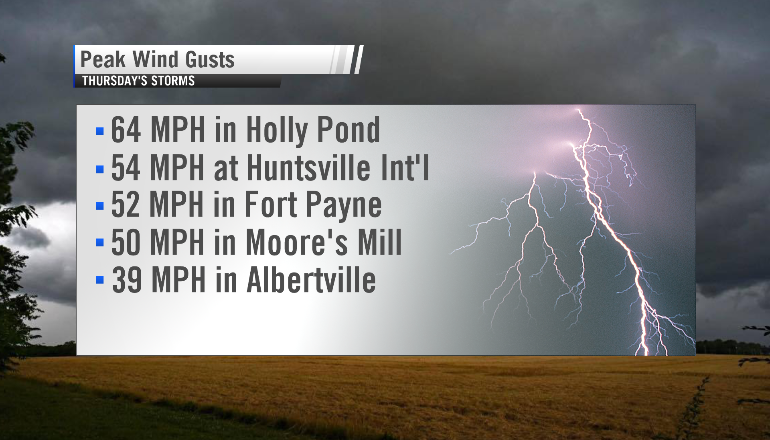 RECAP: Strong storms injure two, cause two traffic deaths Thursday
Thursday's spectacular sunset following big, strong summer storms
It's almost standard operating procedure this time of year to have one day with a big wave of heavy storms followed by a much quieter day. That's exactly what we expect Friday: hot and humid with just a slim chance of any appreciable rainfall from a few isolated showers or storms. Most of any isolated storms developing Friday afternoon will 'pop' east and south of the Huntsville area.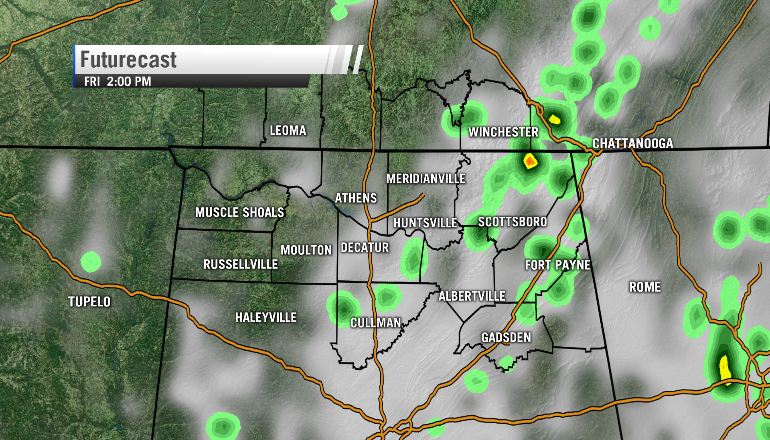 Father's Day Weekend: Get ready to sweat! The heat and humidity are on for the weekend, and there is very little chance of enough rain to bring a cool down. Sure, a few spotty showers or thunderstorms are possible on Saturday and Sunday afternoons, but the bigger issue is the hot, humid air. 'Feels like' temperatures both days will be around 93ºF to 97ºF unless you're the lucky (or unlucky one depending on how you see it) getting a brief downpour.
Cold front on Monday! Cold fronts are a welcome sight this time of year, and the one moving in on Monday likely brings one more wave of widespread showers and storms (maybe even a few strong storms) and a brief push of slightly less humid air.
Track heavy storms with WHNT.com's Interactive Radar or swipe over to the radar feature on Live Alert 19!
Note the wording there: 'slightly less humid.' It's not getting cool, but the air will be a little less torrid on Monday night and Tuesday. We could see another 1/2″ to 1″ of rain with that front, but once it's past us, it looks hotter and hotter late next week! Some model guidance is now pushing daytime highs as high as 95ºF to 100ºF between Thursday and next Sunday.
'Feels like' temps may go above 100ºF to 105ºF by next weekend. Ouch.
Need some specifics about the weekend or next week? They're always online at WHNT.com/Weather and in the "Daily Forecast" section on Live Alert 19!
-Jason
Connect with me!
Facebook: Jason Simpson's Fan Page
Twitter: @simpsonwhnt