This is an archived article and the information in the article may be outdated. Please look at the time stamp on the story to see when it was last updated.
The Tennessee Valley logged another hot and dry weekend with daytime highs in the 94-96 degree range in Huntsville as well as Muscle Shoals both Saturday and Sunday.
Thankfully, not everyone in the region experienced *that* extreme of heat: Areas in Sand Mountain logged daytime highs in the upper 80s to low 90s.
A cold front has pushed well south of the region, and drier air is filtering in behind it.
This means that the humidity is going down, which can be both a blessing (slightly cooler temperatures in the morning) and a curse (hotter temperatures in the afternoon).
Lower Humidity, But High Heat: We often hear people say "it's not the heat, it's the humidity", but this week it's going to be the heat! Some drier air will move in for the next few days, keeping humidity on the low side for this time of year. Temperatures will rise into the low 90s each afternoon, but as long as you're not in direct sunlight for too long, it won't feel oppressive.
That drier air will also keep storm chances low, but it won't do away with rain altogether. With a weak frontal boundary nearby, we'll still keep in a daily afternoon chance of an isolated downpour through the middle of the week. Then a shift to a southerly flow will bring in more moisture for the last half of the week.
Late Week Storms? By the end of the week high pressure off the east coast will begin taking over our weather pattern again. That sets up a steady flow of moist, southerly air. The rise in humidity will make it feel more uncomfortable and supply more fuel for storm chances.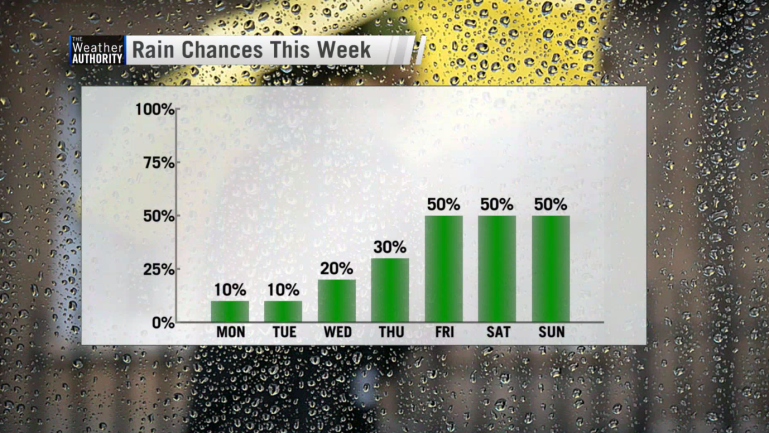 Scattered showers and storms become more likely, but how widespread coverage will be depends on how strong and where exactly that area of high pressure is. Thursday through next weekend looks like a wetter time frame, with up to 1-1.5 inches of rain possible by next Saturday.