This is an archived article and the information in the article may be outdated. Please look at the time stamp on the story to see when it was last updated.
Some clouds move in overnight as an upper-air low passes just north of the Tennessee Valley; they won't stay around long, though.
Look for a partly to mostly sunny, chilly and breezy Wednesday. That wind makes it feel colder than it looks!
'Feels like' temperatures around 6 AM Wednesday will be in the 25ºF to 30ºF range with a breeze up to 20 miles per hour. It will still feel like it's in the 30s and lower 40s through the afternoon.
Frosty late-week mornings: Huntsville's long-term temperature record shows an average of 6.8 freezes in the month of March since 1908. We've got at least two this week, and we'll probably get one or two early next week.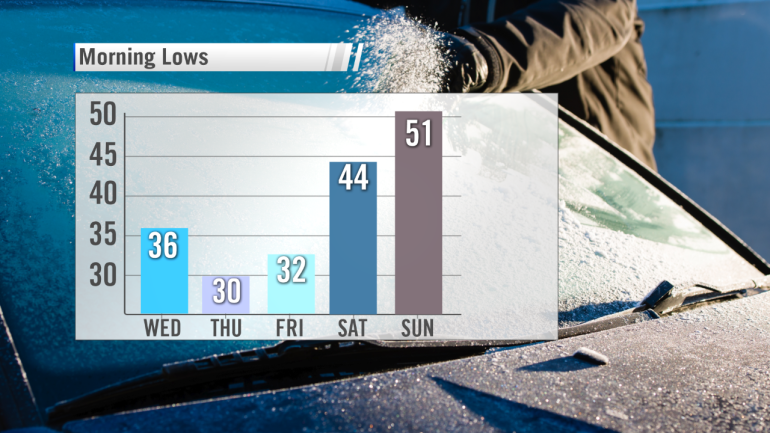 Scattered light frost is possible on both Thursday morning and Friday morning; however, the air looks so dry that frost may not be extremely widespread: especially inside larger cities away from the usual cold spots in the rural areas (Russellville Airport, New Market, Valley Head, Cherry Grove, etc.).
The chill backs off this weekend with a strong storm system with a round of rain and some thunderstorms Saturday, Saturday night and Sunday. That's followed by another shot of colder weather early next week.
Rainy, stormy weekend?  The weather changes quickly this time of year: rain to sun, cold to warm, sun to storms.  The changes from Friday to Sunday bear all of those traits and then some!   A strong storm system developing west of Alabama and Tennessee on Saturday draws in a lot of warm, humid air from the Gulf of Mexico.
Will we have 'severe' storms?  That's still a question that needs to be answered in time.  There's a chance, but it seems small right now for North Alabama and Southern Tennessee.
Will it rain all day Saturday?  No, it won't rain every hour of the day, but we do expect some scattered showers from the pre-dawn hours through about midday and more widespread rain and thunder Saturday night through Sunday morning.
Rain moves out by mid-morning Sunday leaving us breezy and cool Sunday afternoon.  Sunday's high likely occurs in the morning and temperatures stay steady or drop slightly through the afternoon.
Total rainfall this weekend?  We'll be around 1-2″ total from the first showers on Saturday through the last of the rain on Sunday morning.
Track rain and storms with WHNT.com's Interactive Radar or swipe over to the radar feature on Live Alert 19!
-Jason
Connect with me!
Facebook: Jason Simpson's Fan Page
Twitter: @simpsonwhnt