This is an archived article and the information in the article may be outdated. Please look at the time stamp on the story to see when it was last updated.
Isolated showers/storms may linger after midnight in a few spots, but most of us are rain-free for the night.  Expect a steamy, stuffy environment: lows in the low-70s with some patchy dense fog by sunrise.
We see a very slim chance of substantial rainfall on Wednesday; isolated storms may 'pop' here and there, but few if any of us get rainfall. Here's the catch: isolated storms can drop a lot of rain over small geographic areas!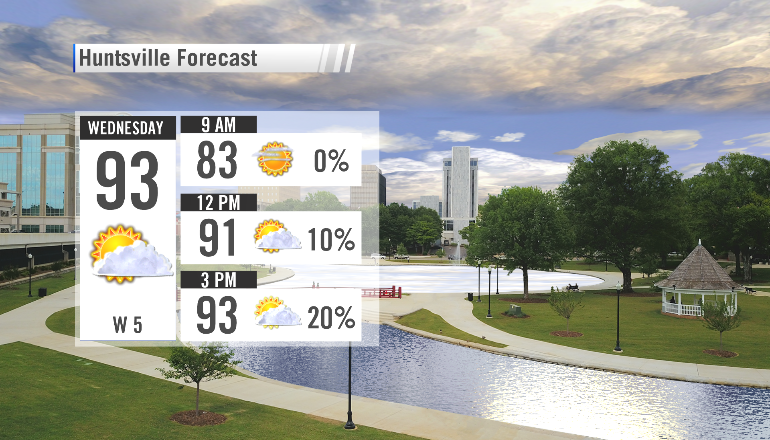 Temperatures soar to the lower and middle 90s in the afternoon; the 'feels like' temp spikes to the 100ºF to 105ºF range between 11am and 6pm. A midsummer cold front (a legitimate one) moves into the region Friday upping the ante for scattered storms and and bringing some 'cooler' air for the weekend.
Still hot for Thursday: It stays very hot ahead of the coming cold front; expect highs in the lower/middle 90s on Thursday. The 'feels like' temp spikes as high as 105ºF in the hottest part of the day (lunch to early evening). Some isolated storms are possible, but rain is not 'likely' on Thursday. Just like Wednesday, Thursday low chance of rain speaks more to the coverage than the amount; if it rains on you, it will rain hard for as much as 30-60 minutes.  There is a slim chance of a few strong storms Thursday: gusty winds along with very heavy rain and intense lightning in the biggest storms.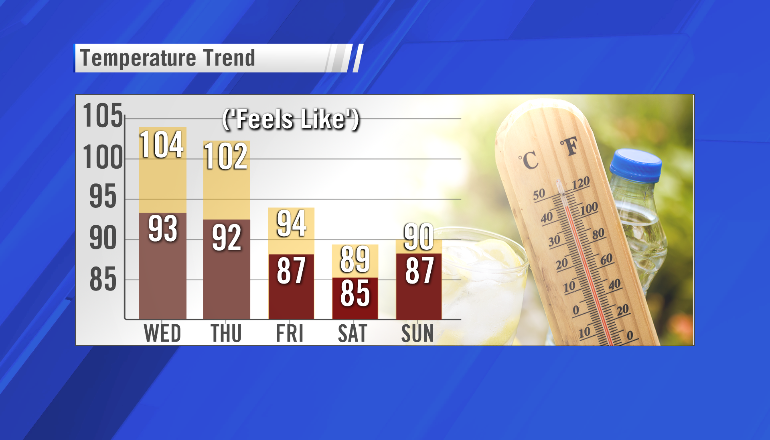 About that cold front: This midsummer cold front edges into the Nashville area by Friday morning and heads into North and Central Alabama in the afternoon and evening.
Showers and storms are likely, but rainfall looks very uneven. Some spots get more than one inch of rain while a few communities get next to nothing. That's why the chance of rain is only around 50 percent: considerable uncertainty about who gets what keeps the rain chance well below 100 percent for Friday, Friday night and early Saturday morning.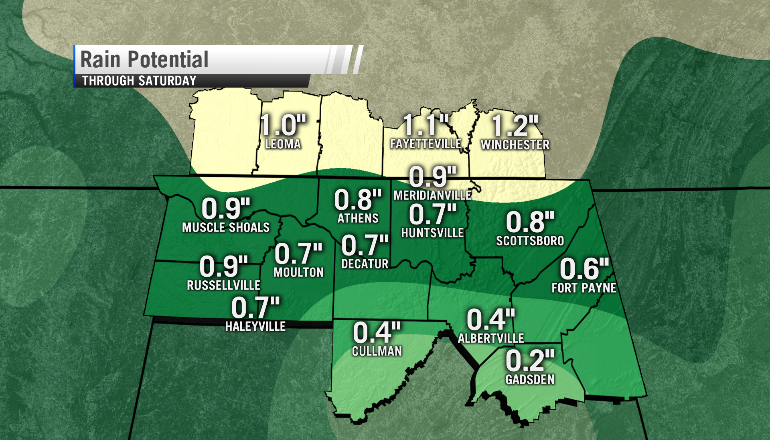 Need some specifics about the weekend or next week? They're always online at WHNT.com/Weather and in the "Daily Forecast" section on Live Alert 19!
-Jason
Connect with me!
Facebook: Jason Simpson's Fan Page
Twitter: @simpsonwhnt