This is an archived article and the information in the article may be outdated. Please look at the time stamp on the story to see when it was last updated.
We still have forty-three days until the first day of Summer, but the weather is already feeling more like Summer than Spring! Muscle Shoals hit 90ºF for the first time Wednesday; Huntsville hit 88ºF, and it gets even hotter for the upcoming weekend. The building heat and humidity also bring a chance of a few stray showers and storms: the 'pop-up' hit-or-miss variety that are very common around here in the summertime.
Wednesday morning was the last 'cool' morning we'll get for a while. The temperature dropped as low as 50ºF in Fort Payne and 57ºF in Huntsville. Expect a less comfortable, more humid, warmer night ahead: lows about 10ºF warmer than last night in the upper 50s and lower 60s. There's also a small chance of some spotty showers through the first half of the night. It stays unseasonably warm for Thursday and Friday; both days feature a chance (not a guarantee) of some hit-or-miss showers and thunderstorms.
Summer-like downpours possible: The primary 'northern branch' of the jet stream shifted well north of us last week, but we still get occasional 'disturbances' that drift overhead in the weaker southern branch. One such disturbance passes early Thursday, and another one arrives Thursday afternoon. In both cases, a few showers and thunderstorms are possible; however, rain is not necessarily 'likely' for any given spot in North Alabama or Southern Tennessee through Friday.
We'll see a better chance of more numerous, but still scattered and unevenly distributed, showers and storms next week.
Hot for Mother's Day Weekend! When the weather starts to look like summertime, it starts to feel like summertime, too! Expect a hot, dry weekend: highs in the upper 80s and lower 90s with a 'feels like' temperature up around 91ºF to 94ºF on Saturday and Sunday.
Rain stays away for the weekend, but the humidity will be high enough to make it feel just that much more uncomfortable in the heat.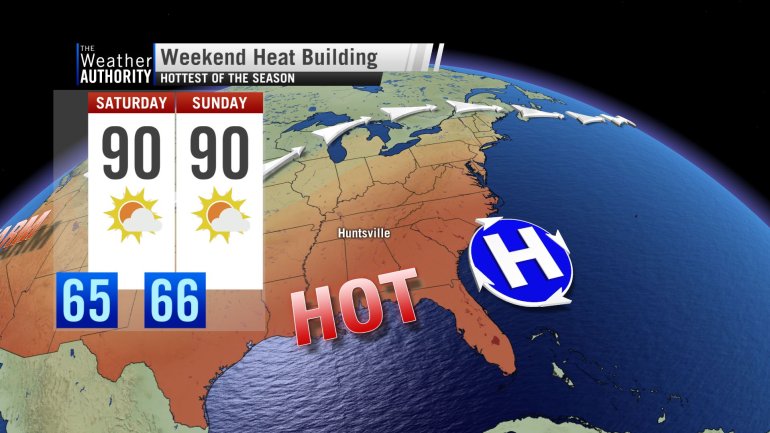 More numerous storms next week: Last month was a soaker, but May has not been all that wet so far: just a meager 0.25″ of rainfall in the past nine days at Huntsville International Airport. It's hard to believe after all of the wet weather recently, but we are needing some rain now; next week looks promising, but it still does not offer a guarantee of a good soaking for every single community in the region.
Rain chances increase from a low 20% on Monday to about 60% by Thursday. If you're hoping for some rainfall, next week offers a pretty good chance on multiple days to get what you need!
Need some specifics about the weekend or next week? They're always online at WHNT.com/Weather and in the "Daily Forecast" section on Live Alert 19!
-Jason
Connect with me!
Facebook: Jason Simpson's Fan Page
Twitter: @simpsonwhnt