This is an archived article and the information in the article may be outdated. Please look at the time stamp on the story to see when it was last updated.
This fine-feeling weather pattern we find ourselves in this week is a nice change of pace from that thick tropical humidity that crept north in May and stuck around through last weekend. At 2 PM Tuesday, it was only 77ºF in Fort Payne and 81ºF in Huntsville; it will be close to 10 degrees warmer than that by the end of the week, so enjoy the 'cooler' weather while it lasts!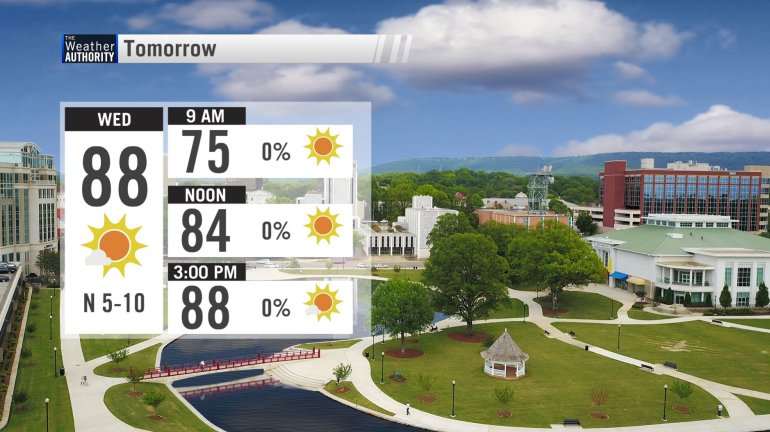 Short dry spell: Tuesday marked the fourth-straight rain-free day in Huntsville; that's only significant because it's been so long since we had no rain in the area at all for more than a two days!
The longest stretch of dry weather so far in 2018 came between May 7th and May 14th: eight-straight days.
Our current streak lasts through Friday (seven days total) for sure, but given the spotty-looking nature of the weekend showers and storms, some communities could go all the way to Monday before seeing appreciable rainfall.
Remember this if you're watering your lawn: it's best to water before sunrise while the relative humidity is highest and the wind as lightest. Sprinklers lose a lot of water to evaporation while the sun is shining; a large percentage of the water you're paying for will never have an impact on your grass or garden.
Weekend storm potential: The meteorological 'Ring of Fire' kicks into gear this weekend. That's the area on the out rim of a strong, hot 'high' (or ridge) where waves of heavy thunderstorms develop. They feed off the heat supplied by the ridge.
We'll start with a few scattered storms breaking out in the heat of the day on Saturday; expect a high around 90ºF with a heat index topping 95-100ºF.
Spotty storms are a little more likely on Sunday, but the greatest chance looks to roll through here Monday with a more widespread wave of storms blowing in from the north.
Seven day rainfall? Huntsville averages about 1.2" of rain per week in June. The next seven days look a little drier than normal over-all; however, any one single thunderstorm can drop an inch of rain in less than an hour with the kind of pattern developing between Saturday and next Tuesday. That rain looks very scattered and uneven, so if you need the rain you'll have your chance. If you don't need the rain on any given day, you've got a reasonable chance of staying dry long enough to at least get some things done outdoors!
Need some specifics about the weekend or next week? They're always online at WHNT.com/Weather and in the "Daily Forecast" section on Live Alert 19!
-Jason
Connect with me!
Facebook: Jason Simpson's Fan Page
Twitter: @simpsonwhnt