This is an archived article and the information in the article may be outdated. Please look at the time stamp on the story to see when it was last updated.
The heat is sure, the storms are hit-or-miss
Summertime weather means a fairly steady forecast: hot days, humid nights, and a daily chance of some hit-or-miss showers and thunderstorms. The over-all weather does not change much, but there is a significant daily difference between those getting the downpours and those who miss them!
Expect more widely scattered storms across the region through Father's Day weekend. The hot weather is sure: highs 91ºF to 95ºF with a heat index near or above 100ºF. The storms? They're going to be spotty.
Keep track of the daily thunderstorm coverage with WHNT.com's Interactive Radar or swipe over to the radar feature on Live Alert 19!
Hot for Father's Day Weekend: Saturday looks hotter and drier than Sunday, but neither day offers much heat relief or guaranteed rainfall. The heat index tops out between 97ºF and 102ºF Saturday afternoon with a slim 10% chance of a few isolated downpours (actual thermometer-read high likely around 94ºF).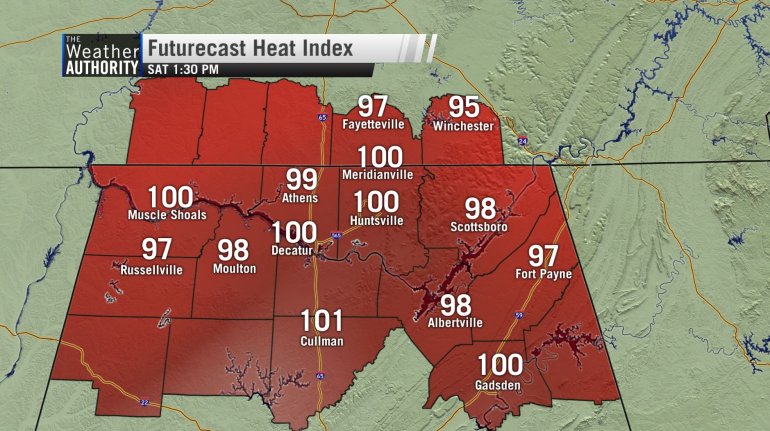 Scattered thunderstorm coverage increase Sunday; however, it does not look like every single community gets rain. Those who do get a downpour could get more than a half-inch in less than 30 minutes with the heavy nature of these localized storms. Daytime highs top out in the low 90s with a heat index above 95ºF.
Understanding the chance of rain in summer: How in the world can you apply a 10%, 30% or 50% chance of rain to what's really going to happen? The most critical part is understanding that the chance is for a broad area; that area is over 8,000 square miles for what we do here at WHNT News 19 covering 'officially' 11 counties in North Alabama and Southern Tennessee (plus some neighboring areas).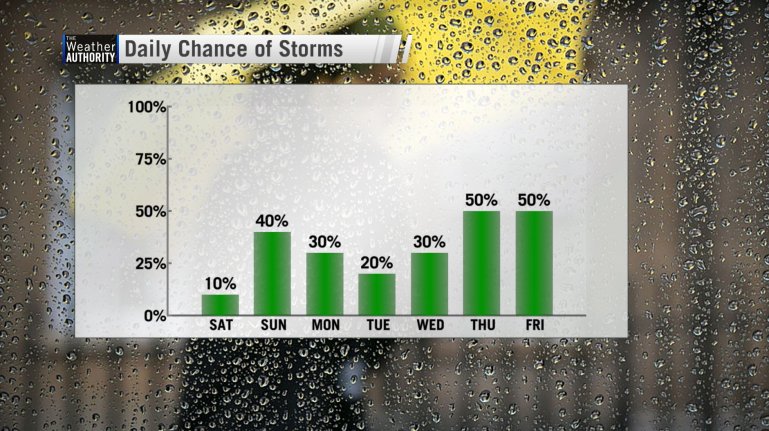 There's no way to pinpoint where a single storm will develop on any given day, so we use a combination of (1) confidence that storms will develop and (2) expected coverage in the forecast area.
A 10% chance is low: usually only a couple of downpours develop in the 'area.' A 30% chance shows good confidence in a few storms; a 50% tells you we expect good coverage of storms, but they will be somewhat unevenly distributed across that 8,000 square mile area.
Next week's outlook: Look forward to more of the same in the next 7 to 10 days! The weather pattern favors hot, humid days with a daily dose of scattered thunderstorms; those storms look most numerous toward the end of next week (Thursday and Friday).
Need some info about the forecast? It's always online at WHNT.com/Weather and in the "Daily Forecast" section on Live Alert 19!
-Jason
Connect with me!
Facebook: Jason Simpson's Fan Page
Twitter: @simpsonwhnt