This is an archived article and the information in the article may be outdated. Please look at the time stamp on the story to see when it was last updated.
Huntsville has 99 days of 90-degree heat in 2018 through Sunday, and it looks like the seemingly never-ending summer is finally giving way to Fall: only about two weeks later than the calendar's 'First Day of Fall.'
Daytime highs drop into the 80s for Tuesday and Wednesday, and then it falls into the 70s for highs and 40s/50s for lows for the end of the week and the weekend.
An even more substantial cool down might have as as cool as the upper 60s for highs and widespread 40s for lows early next week. It's a bit too early to see exactly how low it will go, but one thing's for sure, the nineties are about to be a thing of the past until next Spring.
Get your Fall clothes ready: it's finally going to get cool!
What about Michael?  Track Michael's latest strength and see the latest forecast from the National Hurricane Center with WHNT.com's Interactive Radar or swipe over to the radar feature on Live Alert 19!
The National Weather Service in Tallahassee uses the word 'catastrophic' in their Monday afternoon discussion:
Area Forecast Discussion
National Weather Service Tallahassee FL
332 PM EDT Mon Oct 8 2018

…MICHAEL COULD DEVELOP INTO A POTENTIALLY CATASTROPHIC EVENT FOR
THE NORTHEASTERN GULF COAST…

.NEAR TERM [Through Tonight]…

There isn`t much to worry about tonight with only isolated showers
early this evening and overnight lows in the mid 70s.

.SHORT TERM [Tuesday Through Wednesday Night]…

Key Points…

1. Hurricane Michael is forecast to strengthen into a major
hurricane as it moves towards the area.

2. Life threatening storm surge along portions of the Florida
panhandle and big bend coastlines, widespread power outages from
strong winds, and localized flash flooding are all possible.

3. Preparations should be rushed to completion.

Details…

A potentially catastrophic event is developing. Michael has been
upgraded to a hurricane and is forecast to continue to strengthen as
it moves toward the northern Gulf coast, reaching major hurricane
status Tuesday evening before landfall. With landfall expected along
the Florida Panhandle or Big Bend coast Wednesday, significant
impacts are expected across the area with impacts beginning late
Tuesday to early Wednesday. These will include the possibility of
life-threatening storm surge, widespread power outages, downed trees
blocking access to roads and endangering individuals, structural
damage to homes and businesses, isolated flash flooding and the
potential for a few tornadoes. The main change with this forecast
package is that Michael is stronger and slightly slower than the
previous forecast, increasing our threat for higher winds and wind
gusts as well as storm surge.
The best, most widespread, heaviest rainfall with Michael never gets as far northwest as the Tennessee Valley; however, the tropical moisture spreading inland ahead of the storm and an approaching cold front will serve to bring two days of scattered showers: Wednesday and Thursday.
Counties bordering Georgia have a much higher chance of rain Wednesday afternoon and evening; counties nearer Mississippi may see little or nothing at all on Wednesday.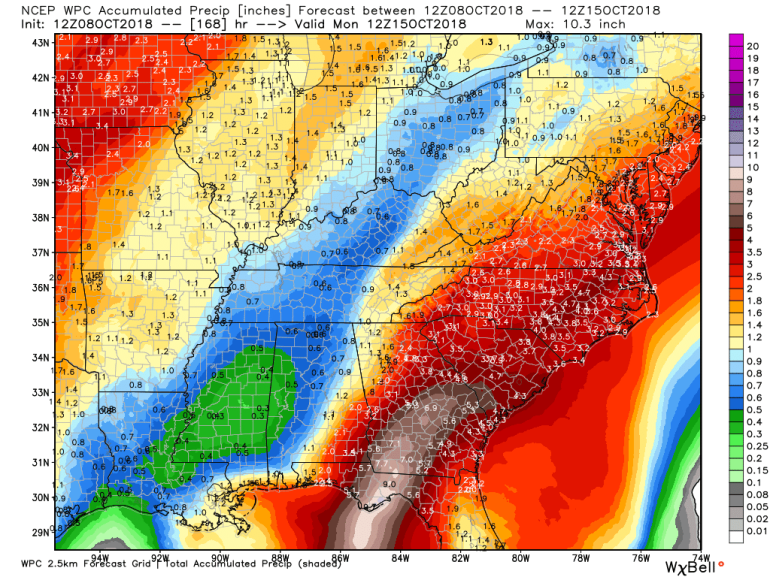 Rain becomes a little more likely Wednesday night into Thursday morning with the front moving into Alabama and Middle Tennessee.  While the rain still looks uneven, a few spots could end up with more than 1/2" of total rainfall.  A few spots will end up with zero to 'just enough to settle the dust.'
Looking for the forecast? It's always online at WHNT.com/Weather and in the "Daily Forecast" section on Live Alert 19!
-Jason
Connect with me!
Facebook: Jason Simpson's Fan Page
Twitter: @simpsonwhnt