This is an archived article and the information in the article may be outdated. Please look at the time stamp on the story to see when it was last updated.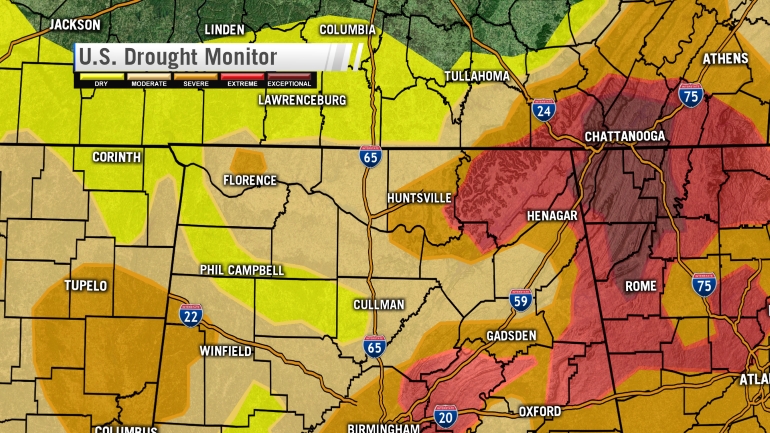 HUNTSVILLE, Ala. – In the updated drought monitor Thursday morning, the level 4, or extreme, drought has expanded into parts of Madison and Marshall County.
A small area of northern DeKalb County has been added to the 'exceptional' drought category, the highest level of drought.
According to Alabama State Climatologist Dr. John Christy, most communities in northeast Alabama would need between 12 and 15 inches of rain to get out of the current drought.
An estimated 3.2 million people are experiencing drought conditions in Alabama.
DROUGHT INFORMATION STATEMENT
NATIONAL WEATHER SERVICE HUNTSVILLE AL
233 PM CDT THU OCT 6 2016

...DROUGHT CONDITIONS CONTINUE TO WORSEN ACROSS THE AREA...

SYNOPSIS:
ACCORDING TO THE DROUGHT MONITOR VALID TUESDAY...OCTOBER 4TH
2016...DROUGHT CONDITIONS WORSENED ACROSS THE ENTIRE TENNESSEE
VALLEY. MOST NOTABLY...EXCEPTIONAL DROUGHT (D4) CONDITIONS WERE
INTRODUCED IN FAR NORTHEASTERN ALABAMA IN BOTH JACKSON AND DEKALB
COUNTIES ALONG THE ALABAMA/GEORGIA STATE LINE. THIS IS THE FIRST TIME
D4 DROUGHT CONDITIONS HAVE OCCURRED IN THE AREA SINCE 2007...WITH
WIDESPREAD EXCEPTIONAL DROUGHT CONDITIONS ACROSS A LARGE PORTION OF
NORTH ALABAMA AND SOUTHERN MIDDLE TENNESSEE.

IN ADDITION TO THE INTRODUCTION TO D4 DROUGHT CONDITIONS...MODERATE
(D1)...SEVERE (D2) AND EXTREME (D3) DROUGHT CONDITIONS EXPANDED
WESTWARD AS WELL.

EXTREME DROUGHT (D3) CONDITIONS ENCOMPASS NEARLY ALL OF JACKSON
COUNTY...AND NOW INCLUDE PORTIONS OF SOUTHEASTERN MADISON AND
NORTHEASTERN MARSHALL COUNTIES. SEVERE DROUGHT (D2) CONDITIONS NOW
COVER MUCH OF THE CENTRAL/SOUTHERN HALF OF MADISON COUNTY...AS WELL
AS THE NORTHERN THIRD OF MARSHALL COUNTY AND A PORTION OF
NORTHEASTERN MORGAN COUNTY. A PORTION OF EVERY COUNTY IN THE
HUNTSVILLE COUNTY WARNING AND FORECAST AREA IS UNDER A MINIMUM OF
MODERATE DROUGHT /D1/ CONDITIONS...BUT DROUGHT CONDITIONS CONTINUE TO
REMAIN WORST IN THE EASTERN PART OF THE AREA.

SUMMARY OF IMPACTS:
STATE AND LOCAL DECLARATIONS: THE MOST RECENT DECLARATION FROM THE
ALABAMA DEPARTMENT OF ECONOMIC AND COMMUNITY AFFAIRS (ADECA) OFFICE
OF WATER RESOURCES INDICATES THAT ALL ALABAMA COUNTIES IN THE
HUNTSVILLE COUNTY WARNING AND FORECAST AREA ARE IN A `DROUGHT
WARNING`. THIS IS A UPGRADE FROM THE DROUGHT WATCH WHICH WAS IN
PLACE RECENTLY.

AGRICULTURAL IMPACTS:
PER THE LATEST CROP AND PROGRESS CONDITION REPORT FROM THE USDA
NATIONAL AGRICULTURAL STATISTICS SERVICE...THE FARM SERVICE AGENCY(FSA)
IN LIMESTONE COUNTY REPORTS THAT THERE ARE LITTLE TO NO PREPARATIONS
FOR WHAT PLANTING SINCE THE GROUND IS TOO DRY AND THE SEED WILL NOT
GERMINATE. PASTURE LEVELS ARE DECLINING AND PRODUCERS ARE FEEDING
SUPPLEMENTAL HAY. IN FRANKLIN COUNTY (TN)...THE FARM SERVICE AGENCY
REPORTS THAT DRY WEATHER IS ALSO IMPACTING SEEDING AND PASTURES AND
THE HAY SUPPLY IS SHORT ESPECIALLY IF PRODUCERS ARE GOING TO NEED TO
FEED EARLY THIS WINTER.

COUNTIES IN EXTREME DROUGHT /D3/ FOR ANY PORTION OF TIME
AUTOMATICALLY QUALIFY FOR U.S. DEPARTMENT OF AGRICULTURE (USDA)
PRIMARY NATURAL DISASTER STATUS. AS OF SEPTEMBER 28TH...THE USDA HAD
OFFICIALLY DESIGNATED COLBERT...DEKALB...FRANKLIN (AL)...JACKSON...
MADISON...MARSHALL...MORGAN...LAWRENCE...AND LIMESTONE COUNTIES AS
PRIMARY NATURAL DISASTER AREAS DUE TO DAMAGES AND LOSSES CAUSED BY
THE RECENT DROUGHT. IN SOUTHERN MIDDLE TENNESSEE...FRANKLIN...
LINCOLN AND MOORE COUNTIES ARE ALSO INCLUDED. PER THE USDA...THE
CONTIGUOUS COUNTIES OF CULLMAN AND LAUDERDALE COUNTIES ARE ALSO
INCLUDED IN THE DISASTER DECLARATION. ANY FURTHER NATURAL DISASTER
DECLARATIONS PERTAINING TO DROUGHT WILL BE UPDATED IN THE NEXT
DROUGHT STATEMENT ISSUANCE NEXT WEEK.

FIRE DANGER IMPACTS:
EFFECTIVE OCTOBER 5TH...A FIRE DANGER WARNING WAS ISSUED FOR NORTHERN
ALABAMA DUE TO THE DROUGHT CONDITIONS. BURN PERMITS MAY STILL BE
OBTAINED...BUT OUTDOOR BURNING IS REQUESTED TO BE DELAYED UNTIL
CONDITIONS IMPROVE. TO OBTAIN A BURN PERMIT...CONTACT THE ALABAMA
FORESTRY COMMISSION DISPATCH CENTER FOR YOUR COUNTY. LOCAL COUNTY AND
CITY LAWS MAY RESTRICT OUTDOOR BURNING HOWEVER...SO BURNERS ARE
RESPONSIBLE FOR CONTACTING THEIR LOCAL GOVERNMENT FOR ADDITIONAL
INFORMATION.

THE TENNESSEE DIVISION OF FORESTRY HAS NO CURRENT BURN RESTRICTIONS
IN PLACE AND BURN PERMITS ARE CURRENTLY NOT REQUIRED BY THE
DIVISION. HOWEVER...BURNERS ARE URGED TO CHECK FOR ANY LOCAL
RESTRICTIONS PRIOR TO CONDUCTING BURNING ACTIVITY.

THE KEETCH-BYRAM DROUGHT INDEX (KBDI) AVAILABLE FROM THE U.S. FOREST
SERVICE WILDLAND FIRE ASSESSMENT SYSTEM INDICATES VALUES IN EXCESS
OF 700 ACROSS MUCH OF NORTH CENTRAL AND NORTHEASTERN ALABAMA...WITH
VALUES BETWEEN 600 AND 700 ACROSS MOST OF NORTHWESTERN ALABAMA AND
SOUTHERN MIDDLE TENNESSEE. KBDI VALUES IN EXCESS OF 600 ARE OFTEN
ASSOCIATED WITH MORE SEVERE DROUGHT CONDITIONS AND WITH INCREASED
WILDFIRE OCCURRENCE.

CLIMATE SUMMARY:
OVER THE LAST WEEK...THE AREA HAS RECEIVED NO RAINFALL. TEMPERATURES
DURING THE LAST COUPLE OF DAYS OF SEPTEMBER AND THE FIRST OF OCTOBER
WERE BELOW NORMAL...BUT HAVE SINCE CLIMBED ABOVE NORMAL. NORMAL
WEEKLY RAINFALL DURING THE LATTER HALF OF SEPTEMBER IS A LITTLE LESS
THAN ONE INCH.

DURING THE SPRING AND INTO SUMMER /MARCH THROUGH LATE SEPTEMBER/...
TEMPERATURES HAVE AVERAGED WELL ABOVE NORMAL...WHICH HAS HELPED LEAD
TO THE DEVELOPMENT AND SUSTENANCE OF DROUGHT CONDITIONS. AT
HUNTSVILLE...THIS PERIOD RANKS AS THE WARMEST ON RECORD. AT
SCOTTSBORO...THE SAME PERIOD IS THE 2ND WARMEST ON RECORD...WHILE THE
SPRING AND SUMMER PERIOD RANKS THIRD WARMEST AT MUSCLE SHOALS.

ALTHOUGH SOME LOCATIONS (ESPECIALLY IN NORTHWESTERN ALABAMA)
RECEIVED BENEFICIAL RAINFALL DURING THE MONTHS OF JULY AND
AUGUST...DRY CONDITIONS HAVE DEVELOPED AGAIN. MOST LOCATIONS ARE
AROUND THREE TO FOUR INCHES OF RAINFALL BELOW NORMAL FOR THE LAST 30
DAYS. OVER THE LAST SIX MONTHS...MANY LOCATIONS HAVE CONSIDERABLE
RAINFALL DEFICITS...RANGING FROM AROUND FOUR INCHES BELOW NORMAL IN
PARTS OF NORTHWESTERN ALABAMA...TO NEARLY 13 INCHES BELOW NORMAL IN
THE NORTHEAST. AT SCOTTSBORO...THE PRECIPITATION DEFICIT OVER THE
LAST SIX MONTHS (OCTOBER 6TH) IS 13.14 INCHES. SCOTTSBORO IS JUST
AROUND 50% OF THEIR NORMAL RAINFALL FOR THE PAST SIX MONTHS.

PRECIPITATION/TEMPERATURE OUTLOOK:
ABOVE NORMAL TEMPERATURES ARE EXPECTED TODAY AND TOMORROW..BUT
SLIGHTLY MILDER CONDITIONS ARE ANTICIPATED FOR THIS WEEKEND INTO
EARLY NEXT WEEK. THEN...TEMPERATURES ARE EXPECTED TO BECOME
INCREASINGLY WARM AGAIN. DAYTIME HIGH TEMPERATURES WILL TEND TO BE
ABOVE NORMAL WITH NIGHTTIME LOWS NEAR NORMAL. DRY WEATHER IS ALSO
FORECAST...WITH LITTLE TO NO RAINFALL FOR THE NEXT WEEK.

THE OUTLOOK FOR WEEK TWO /OCT 13TH - OCT 16TH/ FROM THE CLIMATE
PREDICTION CENTER STRONGLY FAVORS ABOVE NORMAL TEMPERATURES AND
MODERATELY FAVORS BELOW NORMAL PRECIPITATION.

THE LATEST SEASONAL DROUGHT OUTLOOK VALID FROM SEPTEMBER 15TH TO
DECEMBER 31ST INDICATES THAT DROUGHT IS LIKELY TO PERSIST IN AREAS
CURRENTLY UNDER A DROUGHT DESIGNATION...AND IS LIKELY TO DEVELOP IN
AREAS WITHOUT A DROUGHT DESIGNATION. THIS INCLUDES ALL OF NORTHERN
ALABAMA AND ADJACENT AREAS OF SOUTHERN MIDDLE TENNESSEE.

HYDROLOGIC SUMMARY AND OUTLOOK...
AREA RIVER AND CREEK STREAMFLOWS HAVE DETERIORATED OVER THE PAST
SEVEN DAYS. FOLLOWING ARE SEVEN-DAY AVERAGE STREAMFLOW PERCENTILE
STATISTICS FOR SITES WITH VERY LOW STREAMFLOWS FOR THIS TIME OF
YEAR:
ELK RIVER AT PROSPECT TENNESSEE: 5TH PERCENTILE
SHOAL CREEK AT IRON CITY TENNESSEE: 6TH PERCENTILE
LIMESTONE CREEK NEAR ATHENS: 6TH PERCENTILE
BIG WILLS CREEK AT FORT PAYNE: 7TH PERCENTILE
PAINT ROCK RIVER AT WOODVILLE: 8TH PERCENTILE
SIPSEY FORK NEAR GRAYSON: 15TH PERCENTILE
SOUTH SAUTY CREEK NEAR RAINSVILLE: 20TH PERCENTILE
FLINT RIVER NEAR BROWNSBORO: 28TH PERCENTILE

LAKE LEVELS HAVE LARGELY BEEN UNAFFECTED BY THE DROUGHT CONDITIONS
THIS YEAR. LAKES WITHIN THE HEAVILY REGULATED TENNESSEE RIVER SYSTEM
ARE OPERATING WITHIN NORMAL POOL LEVELS. THE EXCEPTION TO THIS IS
LITTLE BEAR CREEK...WHICH IS OPERATING SLIGHTLY BELOW THE LOW NOTCH
FOR THIS TIME OF YEAR. ALABAMA POWER REPORTS THAT DRY CONDITIONS ARE
HAVING AN IMPACT ON SOME LAKE LEVELS UNDER THEIR CONTROL...INCLUDING
LEWIS SMITH LAKE. THE LAKE IS OPERATING BELOW ITS NORMAL GUIDE CURVE
FOR THIS TIME OF YEAR.

ACCORDING TO THE CLIMATE PREDICTION CENTER...THE LATEST DAILY SOIL
MOISTURE RANKINGS AS OF OCTOBER 5TH CONTINUE TO INDICATE ABNORMALLY
LOW SOIL MOISTURE CONDITIONS ACROSS THE AREA. SOIL MOISTURE RANKING
PERCENTILES ARE STILL LOWEST OVER NORTHEASTERN ALABAMA (1ST TO 5TH
PERCENTILE)...RANGING TO NEAR THE 20TH PERCENTILE OVER NORTHWESTERN
ALABAMA AND PARTS OF SOUTHERN MIDDLE TENNESSEE.

THE U.S. GEOLOGICAL SURVEY GROUNDWATER WELL SITE IN CULLMAN COUNTY
SHOWS THAT GROUNDWATER LEVELS FELL BELOW THE DAILY MEDIAN VALUE
DURING THE MARCH TO LATE APRIL PERIOD AND HAVE SINCE REMAINED BELOW
AVERAGE SINCE THAT TIME. WATER LEVELS HAVE CONTINUED TO FALL AT THE
SITE SINCE EARLY SEPTEMBER. GROUNDWATER LEVELS AT THE MONITORING
SITE IN LAWRENCE COUNTY HAVE CONTINUED TO DECLINE MARKEDLY SINCE
LATE AUGUST...WITH GROUNDWATER DEPTHS NOW AROUND FIVE FEET BELOW THE
MEDIAN STATISTIC FOR THIS TIME OF YEAR.

THE OUTLOOK FOR SOIL MOISTURE AND STREAMFLOWS IS FOR CONTINUED
DEGRADATION OVER THE NEXT WEEK...WITH DRY WEATHER EXPECTED.

NEXT ISSUANCE DATE:
THE NEXT DROUGHT STATEMENT WILL BE ISSUED NEXT THURSDAY...OCTOBER
13TH.