This is an archived article and the information in the article may be outdated. Please look at the time stamp on the story to see when it was last updated.
No.  This does not look like a total washout of a weekend, but you should be prepared for some rain at almost any time.
The best chance of rain comes Saturday night into Sunday morning; most of that will be relatively light (less than a quarter-inch of rainfall). A cold front moving through the region on Sunday afternoon will kick off some widely-spaced thunderstorms here and there bringing very heavy rain and some gusty winds to a few, isolated areas.
Uneven is the name of the game here; some places will get a deluge (as we saw on Friday in Northeastern Madison County.
That's how summertime thunderstorms work.
Summer storms usually bring too much or too little when it comes to rainfall; by nature, they are loners drifting slowly around the region dumping heavy rain in some spots while leaving others parched and dry.  The same "scattered storm" pattern sticks around through the weekend, but they should be numerous enough to give most Tennessee Valley communities some rain.
That rain just won't be equally distributed like you'd see in the cool season when the rain comes in big "blobs" and lasts for several hours.  These storms come and go, so don't change your plans!  Have a back-up plain in case a storm interferes with what you've got going on this weekend.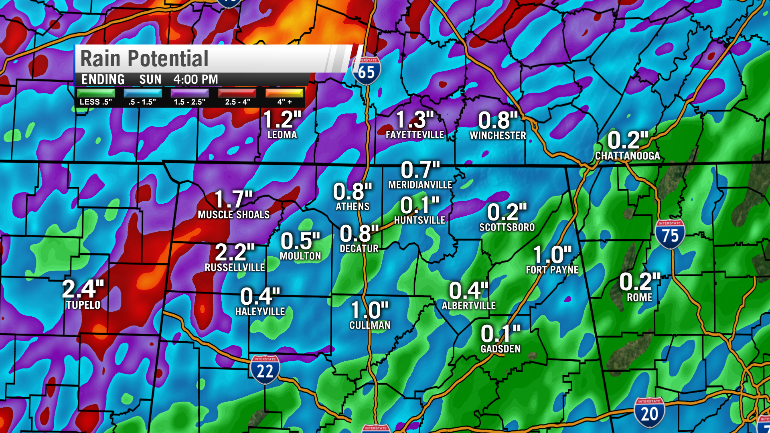 So what can you expect for total rainfall through Sunday? It's going to vary a lot from place to place. The image above is the RPM computer model projection produced on Friday afternoon; it's GUIDANCE - not a guarantee. Use it as a tool to see the hit/miss nature of the heavier rain instead of pinpointing a specific spot.
Saturday's 40% chance of rain and Sunday's 70% chance of rain do not indicate a total rain-out; it shows you how confident we are that rain will (1) occur in North Alabama and Southern Tennessee and (2) that we expect MOST communities to get measurable rain.
-Jason
Connect with me!
Facebook: Jason Simpson's Fan Page
Twitter: @simpsonwhnt