This is an archived article and the information in the article may be outdated. Please look at the time stamp on the story to see when it was last updated.
HUNTSVILLE, Ala. – Get set for the hottest temperatures of the summer to blast the Tennessee Valley this week.
An unusually strong, expansive area of hot high pressure will develop over much of the United States this weekend, and it will continue to spread over the course of the next several days. These types of features are typically associated with blazing summer heat.
The Tennessee Valley will not be directly underneath this feature, but we will be close enough to still feel some impacts. Afternoon highs begin climbing into the upper 90s by Monday afternoon, and we could start hitting 100 degrees as early as Thursday afternoon.
The current forecast puts the high temperature next Thursday at 100 degrees and 102 degrees next Friday. Depending on how high the humidity is during this time, the feels like temperature may approach 110 degrees in a few spots.
While rain is more unlikely in the type of setup we expect, it is not impossible. As the core of the high shifts west Tuesday, this may allow for an opportunity for some storms sometime between Tuesday and Wednesday.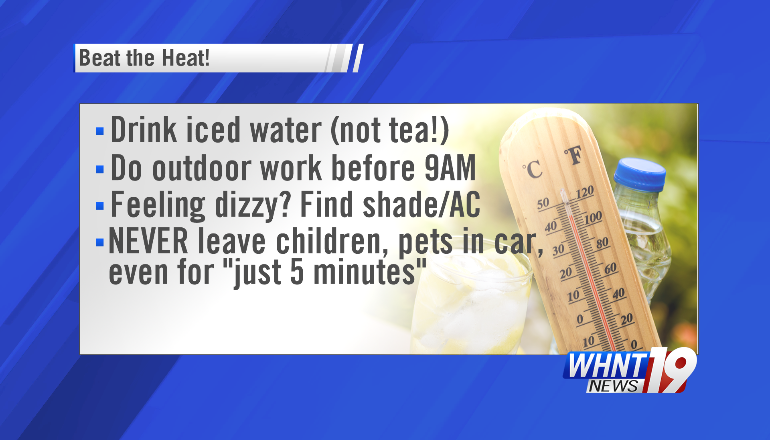 Heat Safety Tips: Remember that heat illnesses (like heat cramps, heat exhaustion, and heat stroke) can occur if strenuous activity occurs during the hottest part of the day.
Heat exhaustion and heat stroke are considered life-threatening conditions; if you suspect that you or someone you know is experiencing a heat-related illness, stop all activities and seek shade or an air-conditioned building.
In addition to the triple-digit heat, the humidity will make it tougher for your body's cooling mechanism — also known as sweat — to function properly. That is because the humidity prevents sweat from evaporating, and it's the evaporative cooling on your skin that moderates your body's temperature.
You can help your body cope with the heat by taking these simple precautions:
Avoid outdoor activities between the hours of 10 a.m. and 6 p.m.
Avoid caffeinated beverages, like coffee and tea. Caffeine dehydrates the body, which makes the impacts from the heat even worse.
Wear loose-fitting, light-colored clothing. Dark colors absorb sunlight, which in turn heats up your body.
As a reminder, NEVER leave children or pets in the car, even for "just five minutes." Temperatures within vehicles can climb at a rapid pace shortly after shutting off the air conditioning — as much as 19 degrees in just 10 minutes.