This is an archived article and the information in the article may be outdated. Please look at the time stamp on the story to see when it was last updated.
For the last two to three weeks, the Tennessee Valley has seen one wet day after another. Rainfall totals range from 3 inches to almost 10 since May 20th: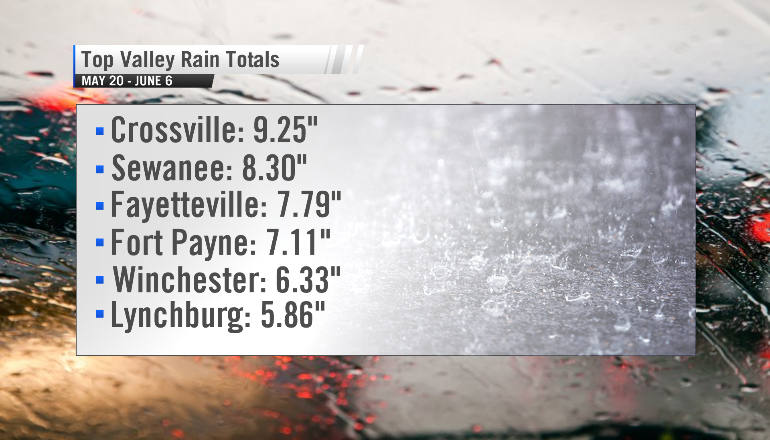 All of this rain has certainly been good for our water systems and plant-life!
You probably remember that this time last year we were starting to slip into a drought, which became an extreme drought by the fall of 2016. We finally started to feel some relief this past winter, but it's been a slow road to recovery. Even after picking up 5.5 inches of rain since May 20th, Huntsville is still facing a deficit for the year of 1.43 inches.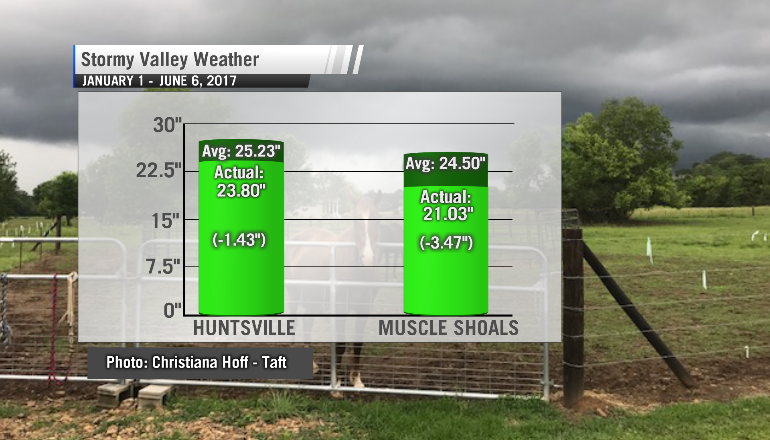 We have seen many improving conditions outside of straight rainfall totals though. Soil moisture is up across the Valley, especially over Sand and Lookout Mountains. Our well and reservoir levels are meeting what is considered average levels for this time of year. Streamflow is mostly above average, which is expected since streamflow will generally peak after rain before slowly receding again.
Dr. John Christy, Alabama's State Climatologist, also pointed out that the more moderate temperatures have helped moisture stay in the ground too:
"The lack of super hot and dry days recently has prevented normal rates of evapotranspiration, so the water stays in the ground rather than moving to the air and blowing away"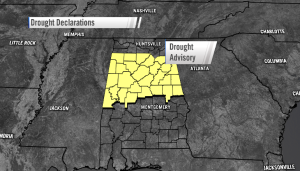 These are a few of the factors that were taken into account by the Alabama Drought Monitoring & Impact Group when they decided to lift the Drought Advisory for the Tennessee Valley. As long as we continue to see a good dose of rain each week through June, then we can start to feel optimistic about leaving the drought behind.