There is so much talking about the lack of rain across the Tennessee Valley, but how is your lawn doing? Soil moisture is very important when it comes to a healthy lawn.  In terms of that moisture, there just isn't that much. How is soil moisture calculated and what does it mean to us? This is from the Alabama State Climatologist website showing soil moisture or a lack there of across the state.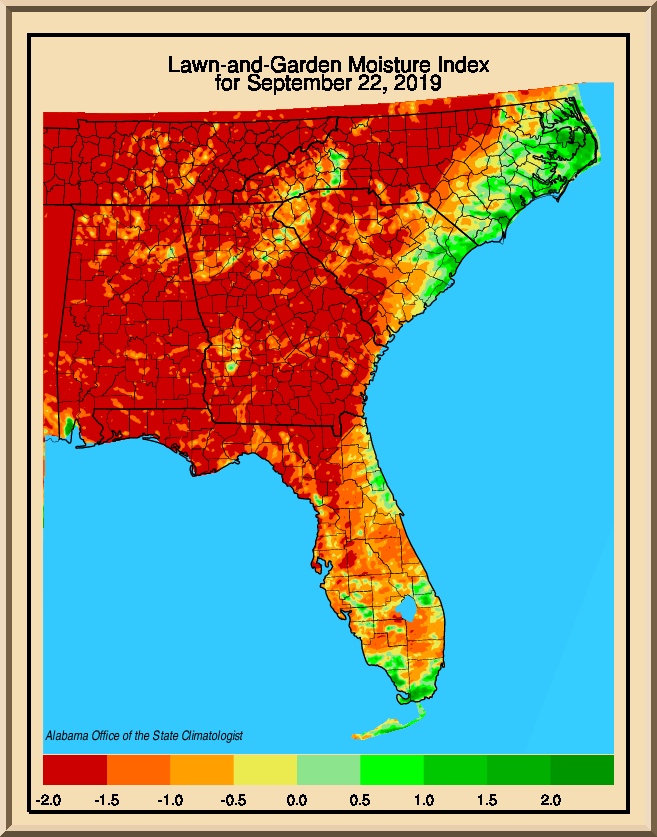 This map is the soil moisture index. How is it computed? According the Alabama Office of State Climatology:
"If precipitation fell uniformly through a 21-day period such that the total for the period were 3 inches, then the total effective precipitation would be 2 inches (dark green). The precipitation we use to compute the index is obtained from NOAA's Climate Prediction Center. It is determined from weather radar images in conjunction with precipitation reported at rain gages."
So, the opposite would be if no rain fell the same period and beyond, it would be in the darker red.  There is a second part to the equation:

This shows the rainfall amounts on the left axis with the number of days on the bottom axis. Let's go back to the diagram at the top and see what's going on in our viewing audience.
Notice how most of the north Alabama is in the red. That means there hasn't been much rain in 21 days. If you look closer, there are a few spots that are white, but not many. That means there are totals around .25″ (see diagram above)  in the last fourteen days or so. There are a few white areas in Morgan, Madison, and parts of the Shoals. That's the hint of rain we received earlier this month.
What does this mean? We need more rain to promote a healthy soil in the Tennessee Valley and we just don't have it right now.  Here is a look at the rainfall totals for the month. The four days that totaled 0.27″ at Huntsville International Airport/Madison County are the white areas on this map. Others didn't see as much. For example, Northwest Alabama Regional Airport only has 0.06″ for the month of September. That's not enough to show up on this map.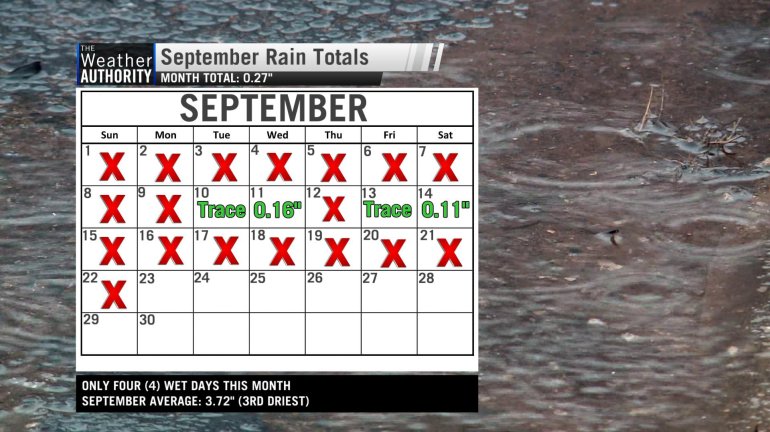 What do we need to  get in the green? We need around an inch of rain a seven day period. We would need more to stay in the green or we move back to the white and then the red.
There is a 30% chance of rain for Monday, but that will only be enough to put a few more areas in the white. That will likely be temporary with no significant chance of rain after that.  No green for a long time here.
Some images courtesy of the Alabama State Climatology.