This is an archived article and the information in the article may be outdated. Please look at the time stamp on the story to see when it was last updated.
Drought conditions in the Valley have improved considerably since this summer, but abnormally dry conditions still prevail in much of northern Alabama.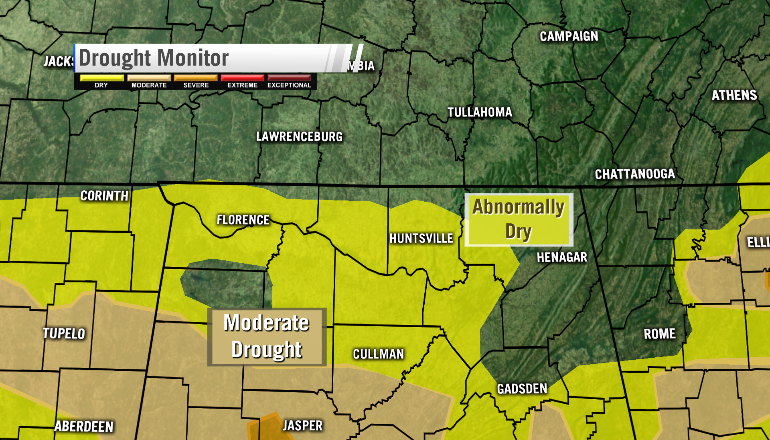 This is due to a rainfall deficit that continues to build since the start of 2017: Huntsville is about 2.65 inches below normal, and Muscle Shoals is 2.54 inches below normal.
As of the latest U.S. Drought Monitor, only southern portions of Cullman and Franklin counties (AL) are experiencing drought conditions.
000
AXUS74 KHUN 041934
DGTHUN
ALC043-059-079-103-061945-

Drought Information Statement
National Weather Service Huntsville AL
234 PM CDT Thu May 4 2017

...Drought conditions continue to improve across the area, with only
southern portions of Cullman and Franklin (TN) Counties experiencing
drought conditions...

Synopsis... 
According to the Drought Monitor valid Tuesday, May 2, 2017, about
the southern half of Cullman County, and a small portion of
southwestern Franklin County are included in Moderate Drought (D1).
In Cullman County, this includes areas generally south of a line from
Smith Lake to Good Hope and Hanceville. Much of the remainder of 
northern Alabama that is a part of the Huntsville County Warning and 
Forecast area (CWFA) is either considered Abnormally Dry (D0) or has
no designation. It's important to note that the D0 designation by 
the U.S. Drought Monitor is not technically considered a drought 
condition. The Abnormally Dry designation indicates that some 
parameters for determining drought indicate a short or long term 
dryness, but are not sufficient to categorize an area under drought 
status.

Note: Precipitation and other conditions (streamflows, soil 
moisture,etc.) that determine drought designations each week for the
U.S. Drought Monitor are based on data that end at 6AM CST each 
Tuesday. So, any precipitation that falls after the 6AM cutoff is
not factored into designations for that week, but will of course be 
factored into designations for the following weekly issuance. Also, 
it's important to note that the designation of drought categories is
a multi-faceted process that includes numerous data from a variety 
of physical systems on different space and time scales, which
include precipitation, soil moisture, streamflows, groundwater, and 
various drought indices, just to name a few. 

Summary of Impacts...
State and local declarations: The Alabama Department of Economic and
Community Affairs (ADECA) Office of Water Resources placed all of
the counties in the Huntsville CWFA in a Drought Advisory per the 
latest update on April 19th. 

Agricultural Impacts...
Crop and Progress Condition Reports from the USDA National 
Agricultural Statistics Service have now resumed for the primary
growing season. In the latest report, issued May 1st, no statements 
were included in the report from the FSA in either Cullman or 
Franklin Counties.

Fire Danger Impacts...
Currently, there are no burn restrictions from the Alabama Forestry
Commission (AFC). Nevertheless, the AFC advises anyone conducting
outdoor burning to follow safety precautions. Any fire more than a
quarter acre in size or within 25 feet of a forested area requires a
permit from the AFC. There are, however, burn restrictions from the
Alabama Department of Environmental Management (ADEM) from May 
through October. No vegetative or land-clearing burning is allowed 
for DeKalb, Lawrence, Madison or Morgan Counties during this period. 
Some agricultural and silvicultural burning may be allowed in these 
counties during this period with prior approval from the ADEM and the
AFC. 

The Keetch-Byram Drought Index (KBDI) available from the U.S. Forest
Service Wildland Fire Assessment System shows that values are near 
or below 200 across the area.

Other Impacts...
On Feb 13, 2017, the Alabama Forestry Commission issued a press 
release stating that drought-plagued trees were continuing to die 
across the state. Then, forestry professionals from across the state 
of Alabama met to discuss the issue. In a press release dated March 
7th, the Alabama Forestry Commission asserted again that large 
numbers of pine and hardwood trees were dying across the state as a 
direct result of the drought. Ground inspection from surveys 
indicated that the drought weakened trees sufficiently to make them 
more susceptible to infestation and damage by a range of pests, such 
as the southern pine beetle. The Alabama Forest Commission stated 
that more areal and ground surveys will be conducted to assess the 
damage and beetle activity. 

Climate Summary...
Temperatures were very warm for the last few days of April, with most
locations averaging around 5 to 15 degrees above normal each day. So
far for the first few days of May, temperatures are averaging closer
to normal, or even a little below normal. Over the last week,
precipitation has been much above normal along a swath from southern
Cullman County through much of northeastern Alabama. Precipitation
has been below normal meanwhile in northwestern Alabama. Normal 
weekly rainfall for this time of year is around 1 to 1.25 inches.

During the month of April, temperatures averaged well above normal. 
Temperatures were above normal for most of the first week, but then
fell below normal from the 6th to the 8th. Afterwards, temperatures
averaged above normal for most of the remainder of the month. The
middle part of the month was especially warm, with daytime high
temperatures mainly in the 80s and lows in the 50s and 60s, which
averaged around 10 degrees above normal for most of this period.
Rainfall during April was above normal for locations in northern
Alabama and southern middle Tennessee. The heaviest rainfall occurred
in eastern areas, from eastern Franklin County (TN) into northeastern
Jackson and along Sand Mountain, where amounts were around three to
six inches above normal for the month. Southern portions of Cullman
County experienced near to slightly above normal rainfall, as did
portions of southwestern Franklin County, which are currently under
the Moderate Drought designation. However, rainfall has not been
sufficient yet to remove this designation from these areas. 

Longer-term precipitation deficits still remain, which is part of 
the reason for the continuing drought designations across the area. 
On 90-day timescales, precipitation amounts are around two to four 
inches below normal in the Moderate Drought designated areas in
southern Cullman and southwestern Franklin Counties. On 180-day
timescales (going back to early November, precipitation deficits are
generally around four to six inches in this area. 

Precipitation/Temperature Outlook...
Temperatures are expected to average much below normal from today
through the weekend across the area. Daytime highs will only be in
the 50s on Friday, then warm to near 70 for Saturday and Sunday.
Meanwhile, morning low temperatures are forecast to be in the 40s
each day. Temperatures will then warm next week, with temperatures
back above normal by the middle of next week. Normal high and low 
temperatures for this time of year are in the mid to upper 70s and 
the mid 50s, respectively. Light rain to occasionally moderate rain
will affect the area today through Friday night, with amounts
totaling generally under one half inch through the period. Chances
for rainfall will increase later next week as another potentially
strong storm system moves into the region.  

The Outlook for mid May (May 11 - 17) indicates equal chances for
above, near or below normal temperatures and precipitation for the
current drought affected areas. The Monthly Outlook for May from 
the CPC moderately favors above normal temperatures and indicates 
equal chances for above, below, or near normal rainfall amounts. 

The latest Seasonal Outlook from the CPC for the May through July 
period from the CPC strongly favors above normal temperatures, with 
equal chances for below, near or above normal precipitation for the
period.

Hydrologic Summary and Outlook...
7-day streamflow averages across the area vary in northern Alabama,
but most streamflows have made significant recoveries from the
drought conditions experienced last year and early this year. In the
current drought stricken areas of southern Cullman County, only the
Mulberry Fork near Arkadelphia contains streamflow information and
statistics. At that monitoring site, the 7-day average streamflow as
of yesterday were in the 22nd percentile, with the stream at just 
61% or normal flow. 

Lake and river levels of Bear Creek and Cedar Creek in western 
portions of Franklin County were near normal for this time of year. 
Also, water levels on Lewis Smith Lake in western portions of Cullman
County were near normal for this time of year. 

According to the CPC, the latest Daily Soil Moisture rankings
continue to indicate relatively low soil moisture values for this 
time of year. As of May 3rd soil moister rankings were in the 10th 
to 20th percentiles for this time of year in southern portions of the
CWFA, including Cullman and Franklin Counties. 

The U.S. Geological Survey groundwater well site in Cullman County
shows that groundwater levels fell below the daily median value
during the March to late April period last year and remained below 
average until late March. Groundwater levels finally rose to above 
the average daily value on March 30th, peaking into early April.
Water level values have since fallen back below normal since mid
April, with water levels currently about three feet below normal.  


The outlook for the next week is for near steady conditions due to
anticipated rainfall today and tomorrow, and for generally below
normal temperature conditions. 

Next issuance date... 
The next Drought Statement will be issued as conditions warrant,
especially if Moderate Drought conditions expand or retreat in the
area, but will be issued regardless within four weeks from today.

&&

Related Web Sites...(use lower case)

U.S. Drought Monitor webpage: http://droughtmonitor.unl.edu

Climate Prediction Center: http://www.cpc.ncep.noaa.gov

For information about Alabama Drought Declarations, visit: 
http://www.adeca.alabama.gov/divisions/owr/pages/default.aspx

For information from the Alabama Forestry Commission, visit:
http://forestry.alabama.gov

Wildfire information from the Alabama Forestry Commission:
http://forestry.alabama.gov/fire_totals.aspx?bv=1&s=4

Radar estimated precipitation amounts can be obtained here:
http://water.weather.gov/precip

Streamflows are obtained from the USGS here:
http://waterwatch.usgs.gov/index.php

Lake levels for the Tennessee River can be obtained here:
http://www.tva.com/lakeinfo/

USGS groundwater well site information for Alabama:
http://waterdata.usgs.gov/al/nwis/current/
?type=gw&group_key=county_cd

Acknowledgements...

Some data used in this statement were provided by the U.S.
Department
of Agriculture, the U.S. Geological Survey, the Tennessee Valley
Authority, and the States of Alabama and Tennessee. 

Questions or Comments...

For questions or comments on the drought, please contact:
National Weather Service Huntsville
320A Sparkman Drive
Huntsville, AL 35805
Phone: 256-890-8503
sr-hun.webmaster@noaa.gov

$$

KDW