This is an archived article and the information in the article may be outdated. Please look at the time stamp on the story to see when it was last updated.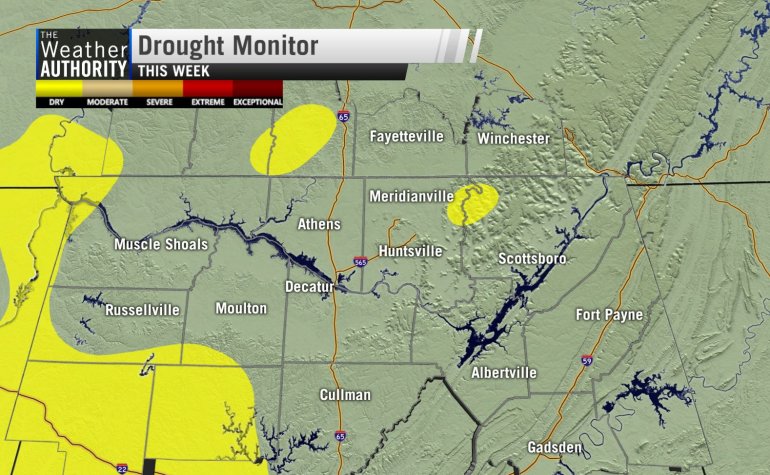 Recent rains that moved through the Tennessee Valley helped to alleviate drought conditions that were previously developing in north Alabama.
As of Thursday's U.S. Drought Monitor, only spotty areas of "abnormally dry" conditions remain in the region. Additional rain expected early next week will provide additional help with the drought conditions.
Below is additional information from the National Weather Service.
DROUGHT INFORMATION STATEMENT
NATIONAL WEATHER SERVICE HUNTSVILLE AL
1043 AM CDT FRI NOV 2 2018

...THE LAST REMNANTS OF DROUGHT HAVE DISAPPEARED FROM NORTHWESTERN 
ALABAMA...

SYNOPSIS... 
ACCORDING TO THE U.S. DROUGHT MONITOR (USDM) VALID TUESDAY, OCTOBER
30TH, 2018, CONDITIONS HAVE IMPROVED IN NORTHWESTERN ALABAMA, 
LEADING TO REMOVAL OF THE MODERATE DROUGHT (D1) DESIGNATION OVER FAR
WESTERN PORTIONS OF LAUDERDALE AND COLBERT COUNTIES. CONDITIONS ARE
STILL CATEGORIZED AS ABNORMALLY DRY (D0) OVER THE LONGER TERM IN THE
FORMER D1 DESIGNATED AREAS IN WESTERN LAUDERDALE AND COLBERT 
COUNTIES. THE D0 DESIGNATION ALSO REMAINS FOR FAR SOUTHERN PORTIONS 
OF FRANKLIN COUNTY (AL), A SMALL AREA IN SOUTHWESTERN LAWRENCE 
COUNTY, AND A SMALL AREA IN NORTHEASTERN MADISON AND NORTHWESTERN
JACKSON COUNTIES UNTIL PRECIPITATION IS SUFFICIENT TO REPLACE LONGER
TERM DEFICITS THAT BEGAN GENERALLY IN JULY. 

NOTE: PRECIPITATION AND OTHER CONDITIONS (STREAMFLOWS, SOIL 
MOISTURE, ETC.) THAT DETERMINE DROUGHT DESIGNATIONS EACH WEEK FOR
THE USDM ARE BASED ON DATA THAT END AT 6 AM CST EACH TUESDAY. SO, 
ANY PRECIPITATION OR CHANGES IN CONDITIONS THAT OCCURS BETWEEN 
TUESDAY MORNING AND THE ISSUANCE OF THE DROUGHT INFORMATION
STATEMENT (USUALLY ON THURSDAYS) ARE NOT FACTORED INTO THE LATEST 
DROUGHT DESIGNATIONS, BUT WILL BE CONSIDERED FOR THE NEXT WEEK'S
U.S. DROUGHT MONITOR ISSUANCE. ALSO, IT IS IMPORTANT TO REMEMBER 
THAT THE DESIGNATION OF DROUGHT CATEGORIES IS A PROCESS THAT
UTILIZES NUMEROUS DATA FROM A VARIETY OF SOURCES ON MULTIPLE SPACE 
AND TIME SCALES, WHICH INCLUDES PRECIPITATION, SOIL MOISTURE, 
STREAMFLOWS, GROUNDWATER, AGRICULTURE, VARIOUS DROUGHT INDICES, AND 
LOCAL DROUGHT IMPACTS.

SUMMARY OF IMPACTS...
STATE AND LOCAL DECLARATIONS: AS OF OCTOBER 31ST 2018, THE ALABAMA 
DEPARTMENT OF ECONOMIC AND COMMUNITY AFFAIRS (ADECA) OFFICE OF WATER 
RESOURCES HAS REMOVED THE DROUGHT ADVISORY FOR THE NORTHERN ALABAMA
COUNTIES UNDER THE HUNTSVILLE COUNTY WARNING AREA, WHICH INCLUDES
COLBERT AND LAUDERDALE COUNTIES. 

CLIMATE SUMMARY...
PRECIPITATION DEFICITS BEGAN TO BUILD ACROSS PARTS OF THE AREA
DURING THE SUMMER, ESPECIALLY IN THE MONTH OF JULY. DURING THE 90 
DAY PERIOD FROM MID-JULY TO MID-OCTOBER, PRECIPITATION DEFICITS 
TOTALED AROUND TWO TO FOUR INCHES ACROSS PARTS OF THE DROUGHT- 
STRICKEN AREA, WITH SOME LOCATIONS EXPERIENCING DEFICITS LARGER THAN 
FOUR INCHES. HOWEVER, RECENT RAINFALL SINCE MID-OCTOBER, TOTALING 
AROUND TWO TO FOUR INCHES, HAS HELPED TO ERASE THESE DEFICITS. 

PRECIPITATION/TEMPERATURE OUTLOOK...
PRECIPITATION IS EXPECTED TO TOTAL AROUND 1.5 TO 2 INCHES ACROSS THE
AREA DURING THE NEXT WEEK (THROUGH THURSDAY, NOVEMBER 8TH), BUT
AMOUNTS COULD BE HIGHER WHERE ANY THUNDERSTORMS OCCUR. TEMPERATURES
WILL TEND TO BE A BIT BELOW NORMAL FOR FRIDAY AND SATURDAY, BUT RISE
ABOVE NORMAL FOR THE SUNDAY THROUGH WEDNESDAY PERIOD, BEFORE POSSIBLY
FALLING BACK BELOW NORMAL AGAIN BY LATE NEXT WEEK. 

THE 8-14 DAY OUTLOOK FROM THE CLIMATE PREDICTION CENTER (CPC), VALID
FOR NOVEMBER 9TH THROUGH 15TH, FAVORS BELOW NORMAL TEMPERATURES AND 
ABOVE NORMAL PRECIPITATION FOR THE AREA.

THE MONTHLY OUTLOOK FROM THE CPC FOR NOVEMBER FAVORS ABOVE NORMAL 
PRECIPITATION FOR THE AREA, BUT THE OUTLOOK INDICATES EQUAL CHANCES 
FOR BELOW, NEAR OR ABOVE NORMAL TEMPERATURES.

HYDROLOGIC SUMMARY AND OUTLOOK... 
STREAMFLOWS ACROSS THE AREA HAVE GRADUALLY INCREASED WITH THE 
RAINFALLS THAT HAVE OCCURRED OVER THE LAST MONTH, AS IS TYPICAL FOR 
THIS TIME OF YEAR. HOWEVER, SOME STREAMFLOWS REMAIN A LITTLE BELOW 
NORMAL FOR THIS TIME OF YEAR, ESPECIALLY IN PORTIONS OF NORTHWESTERN 
ALABAMA, SUCH AS BEAR CREEK. 

ACCORDING TO THE CPC, THE LATEST DAILY SOIL MOISTURE RANKINGS 
INDICATE THAT SOIL MOISTURE VALUES HAVE RISEN TO LEVELS CLOSER TO
AVERAGE FOR THIS TIME OF YEAR. 

NEXT ISSUANCE DATE... 
SINCE DROUGHT CONDITIONS ARE NO LONGER PRESENT IN THE AREA, THIS 
WILL CONCLUDE THE ISSUANCE OF REGULAR DROUGHT INFORMATION STATEMENTS 
BY THE HUNTSVILLE NATIONAL WEATHER SERVICE OFFICE. THESE STATEMENTS 
WILL BE ISSUED ONCE AGAIN IF A SIGNIFICANT PORTION OF THE AREA IS 
CATEGORIZED UNDER D1 CONDITIONS, OR IF ANY OF THE AREA IS CATEGORIZED
IN SEVERE DROUGHT (D2) BY THE U.S. DROUGHT MONITOR. 

&&

RELATED WEB SITES...(USE LOWER CASE)

U.S. DROUGHT MONITOR WEBPAGE: HTTP://DROUGHTMONITOR.UNL.EDU

DROUGHT IMPACT REPORTER FROM THE NATIONAL DROUGHT MITIGATION CENTER:
HTTP://DROUGHTREPORTER.UNL.EDU/MAP

CLIMATE PREDICTION CENTER: HTTP://WWW.CPC.NCEP.NOAA.GOV

FOR INFORMATION ABOUT ALABAMA DROUGHT DECLARATIONS, VISIT: 
HTTP://WWW.ADECA.ALABAMA.GOV/DIVISIONS/OWR/PAGES/DEFAULT.ASPX

FOR INFORMATION FROM THE ALABAMA FORESTRY COMMISSION, VISIT:
HTTP://FORESTRY.ALABAMA.GOV

WILDFIRE INFORMATION FROM THE ALABAMA FORESTRY COMMISSION:
HTTP://FORESTRY.ALABAMA.GOV/FIRE_TOTALS.ASPX?BV=1&S=4

RADAR ESTIMATED PRECIPITATION AMOUNTS CAN BE OBTAINED HERE:
HTTP://WATER.WEATHER.GOV/PRECIP

STREAMFLOWS ARE OBTAINED FROM THE USGS HERE:
HTTP://WATERWATCH.USGS.GOV/INDEX.PHP

LAKE LEVELS FOR THE TENNESSEE RIVER CAN BE OBTAINED HERE:
HTTP://WWW.TVA.COM/ENVIRONMENT/LAKE-LEVELS

SOIL MOISTURE LEVELS FROM THE NLDAS CAN BE FOUND HERE:
HTTP://WWW.EMC.NCEP.NOAA.GOV/MMB/NLDAS/DROUGHT

USGS GROUNDWATER WELL SITE INFORMATION FOR ALABAMA:
HTTP://WATERDATA.USGS.GOV/AL/NWIS/CURRENT/
?TYPE=GW&GROUP_KEY=COUNTY_CD

GEOLOGICAL SURVEY OF ALABAMA GROUNDWATER ASSESSMENT PROGRAM
HTTPS://WWW.GSA.STATE.AL.US/GSA/GROUNDWATER/REALTIME

ACKNOWLEDGEMENTS...

SOME DATA USED IN THIS STATEMENT WERE PROVIDED BY THE U.S. 
GEOLOGICAL SURVEY, THE U.S. FOREST SERVICE, THE TENNESSEE VALLEY 
AUTHORITY, AND THE STATES OF ALABAMA AND TENNESSEE. 

QUESTIONS OR COMMENTS...

FOR QUESTIONS OR COMMENTS ON THE DROUGHT, PLEASE CONTACT:
NATIONAL WEATHER SERVICE HUNTSVILLE
320A SPARKMAN DRIVE
HUNTSVILLE, AL 35805
PHONE: 256-890-8503
SR-HUN.WEBMASTER@NOAA.GOV