This is an archived article and the information in the article may be outdated. Please look at the time stamp on the story to see when it was last updated.
I've heard this question over and over today: how did the rain impact the drought?
North Alabama's drought problems may not be totally over, but rainfall from Friday to early Monday morning sure made some big improvements!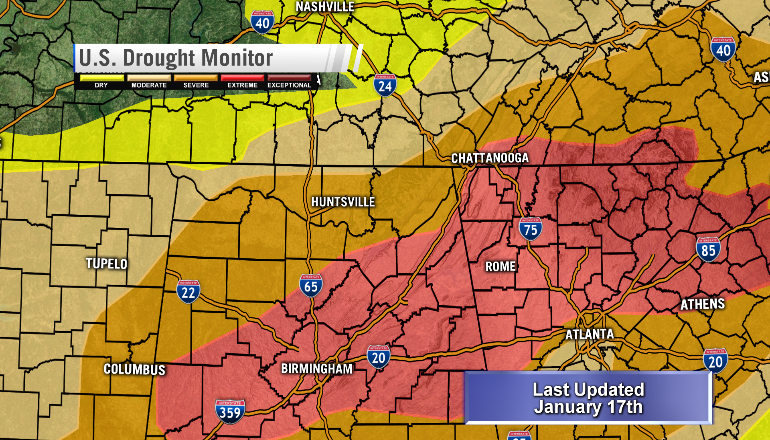 Scottsboro ended up with 6.18" of rainfall; Huntsville had 5.25 inches, and Fort Payne had 4.92 inches in that same time frame.  The highest amounts over Northwest Alabama were a bit short of that: 3.49" in Muscle Shoals and 2.93" in Russellville.
According to Alabama's State Climatologist Dr. John Christy:
North Alabama will still be in some level of dryness, probably D1 (down
from current D2)…in general I think you'll see a one-category
improvement with the possibility of a two-category improvement in places
like central Jackson Co. where over 20 inches have fallen in the past 60
days.
Some ponds that have been dry for months are now full on Sand Mountain, and Little River through the canyon on Lookout Mountain is gushing water now. We will need more consistent rainfall through the next two months to re-establish 'normal' conditions for everyone, but this is a very, very good start.
For a complete listing of rainfall totals from around the NWS Huntsville County Warning Area click here (some totals listed are clearly incomplete or underreported).  Data is from xmACIS2.
Need some specifics about the weekend or next week? They're always online at WHNT.com/Weather and in the "Daily Forecast" section on Live Alert 19!  Scroll down for some Tweets showing the rushing water on Monday!
Praise the Lord! We have a full pond again...we built that dock while water was low. Nailed it on the height, perfectly! @simpsonwhnt pic.twitter.com/EnstVWV3rf

— Carley S Windsor (@Windsor_Carley) January 23, 2017
The Fagan Springs trail was awesome today #MonteSano @simpsonwhnt #visitNorthAlabama #SweetHomeAlabama pic.twitter.com/MbnfZKXZCr

— HikerGirl05 (@hikergirl051) January 23, 2017
https://twitter.com/lookout_mtn/status/823546921142939648
https://twitter.com/lookout_mtn/status/823569247179862017
-Jason
Connect with me!
Facebook: Jason Simpson's Fan Page
Twitter: @simpsonwhnt