This is an archived article and the information in the article may be outdated. Please look at the time stamp on the story to see when it was last updated.
Tuesday's chance of scattered showers and storms includes a few heavy downpours, but most communities in North Alabama and Southern Tennessee won't get enough rain to measure.
Expect two opportunities for some showers/storms. Some spotty develop ones in the morning hours between 3 AM and 7 AM around The Shoals, Waynesboro, Lawrenceburg, Pulaski (and a small, small chance for Athens-Decatur-Huntsville).
Another round of pop-up, hit-or-miss, uneven showers and isolated thunderstorms begins in the early afternoon: lasting from about 1 PM and 8 PM.
Temperatures rise into the lower and middle 90s with those hit-or-miss downpours around in the afternoon.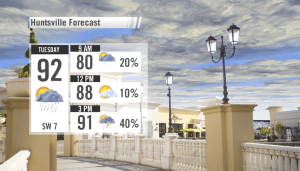 It will be warm and humid all day, so if you leave a car window cracked or plan to be outside for a while in the afternoon, keep an eye out for the chance of showers.
Look for showers and storms to rumble around all week; this is good-but-not-great news for the drought. We need a lot more rain than we will get!  The Seven Day Forecast and all the nuts and bolts can be found here on WHNT.com!
Let Live Alert 19 help you dodge showers and storms on a daily basis this week. Since they are so spotty, the odds are equal for virtually no rain and almost an inch of rain from the heavier storms. Live Alert 19 gives you the tools to know when it's time to duck for cover from those heavy summertime downpours.
-Jason
Connect with me!
Facebook: Jason Simpson's Fan Page
Twitter: @simpsonwhnt