This is an archived article and the information in the article may be outdated. Please look at the time stamp on the story to see when it was last updated.
Clouds and a north breeze kept it cool Monday afternoon!  Huntsville only hit 57ºF: eight degrees below average. Temperatures slowly drop from a high close to 60ºF to the mid-40s by 10 PM with a mostly clear sky; however, more clouds move in overnight, and that means temperatures likely stay just high enough to prevent widespread frost (even though a little patchy frost is possible in a few communities in Northeast Alabama).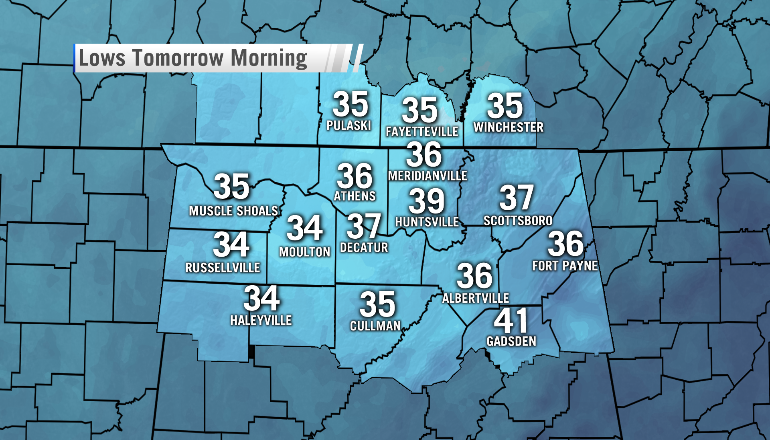 The sky stays cloudy through at least midday Tuesday, so we'll get another 'cooler-than-it-looks' kind of day: high temps around 55ºF to 60ºF with a light east wind. Another weak disturbance passes on Wednesday with another batch of clouds and a slim chance of some isolated showers, but our next decent chance of rain comes up on Friday and Saturday.
Warming up briefly: November started out twelve degrees above average in the first week; since then, we've flipped to about two degrees below average.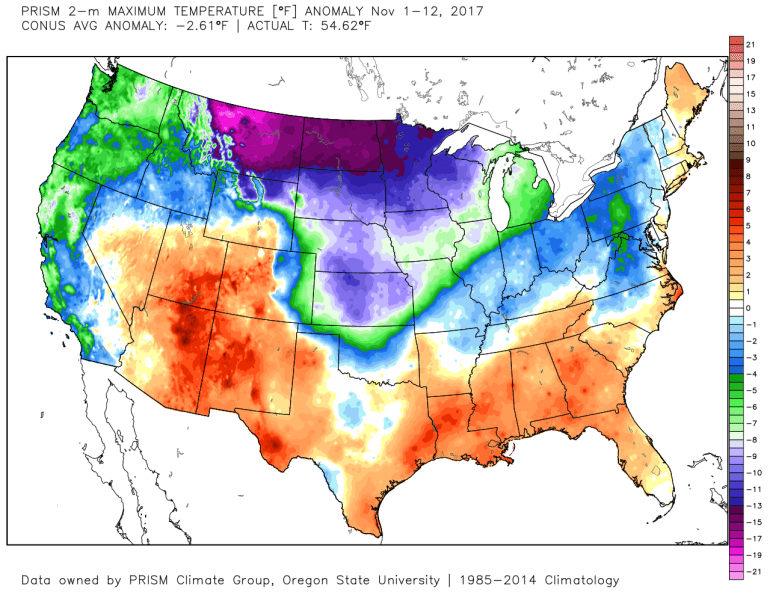 Tuesday is another cooler-than-average' day (average being 64ºF for a high, 42ºF for a low), but it gets warmer by Wednesday, Thursday and Friday.
A return flow sets up bringing back warmer weather for the end of the week; it may get as warm and 70ºF in spots by Thursday afternoon and Friday afternoon.
It won't last though! The first in a series of several cold blasts from the north arrives with some showers and storms Friday evening through Saturday morning.
Severe weather?
It's not looking likely around here at this point; however, the Storm Prediction Center does show some concern for the northwest edge of Alabama, Tennessee and North Mississippi in the Friday-Saturday timeframe.
Details are sketchy at this point, but there might be some risk of some active storms in that period. We'll keep you posted.
How cold are we talking? 'Average' this time of year means 60s by day and 40s by night; we expect actual air temperatures to be as much as 10ºF to 15ºF below average starting Sunday lasting through most of next week – including Thanksgiving.
We are expecting a widespread freeze – potentially a hard freeze – next Monday and Tuesday mornings with many areas seeing middle and upper 20s for overnight lows!  The GEFS ensemble shows temps generally running well-below average from the 19th through the end of the month.
Need some specifics about the weekend or next week? They're always online at WHNT.com/Weather and in the "Daily Forecast" section on Live Alert 19!
-Jason
Connect with me!
Facebook: Jason Simpson's Fan Page
Twitter: @simpsonwhnt