This is an archived article and the information in the article may be outdated. Please look at the time stamp on the story to see when it was last updated.
The days don't get shorter, but the hours of daylight do! North Alabama loses about two minutes of daylight per day this time of year; we've already lost an hour and forty-four minutes of daylight since the summer solstice in June. Sunset keeps getting earlier and earlier:
Wednesday – 7:07 PM
Thursday – 7:05 PM
Friday – 7:04 PM
Daylight shortens at a rate of close to two minutes per day this time of year, but the solar angle gets lower, too!
Look at how much it can change in a single day!  Pete Dobbs took two sunset consecutive shots from Green Mountain showing the shift south (left) in just 24 hours: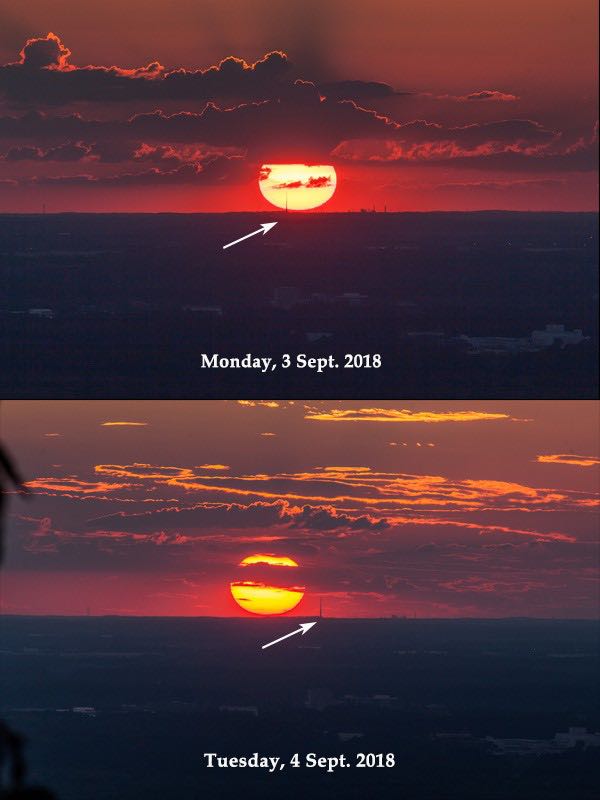 Why does this happen?
The Earth's 23.5º tilt has everything to do with it. In Summer, the Northern Hemisphere is pointed more directly toward the Sun; in Winter, the Southern Hemisphere is more directly pointed toward the Sun.
So the Sun doesn't move; we do!
When will it start feeling like Fall?
September 15th is the average final 90-degree day of the calendar year in Huntsville.  This year?  We'll probably go well into late September with the 90s.
A cool down projected by long-range modeling for mid-September is going to be a no-show, but some clouds, showers and thunderstorms could help suppress the heat some for the first part of next week: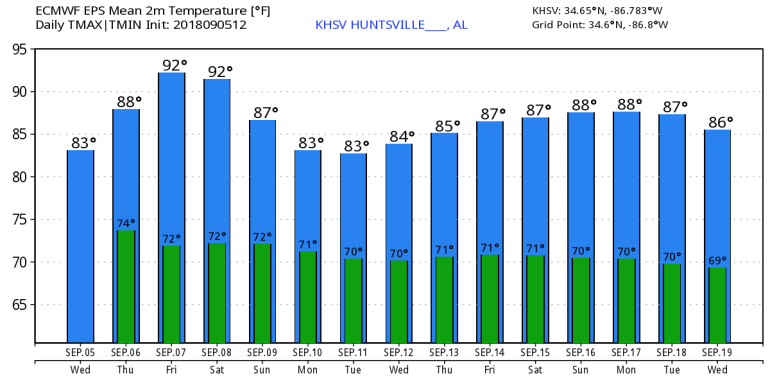 Does the above chart tell us we're finished with the 90s after this weekend, though?
That's doubtful.  If the trends in long-range guidance hold true, we will probably see hotter-than-normal weather through the end of September and early October.
We may be finished with the 95ºF+ heat by next week, but the 90s will probably be back between the 14th and 19th.  The numbers presented above may be contaminated a little too much with climatology (the normal drop in temperature in the month of September) to see how hot and dry it could be around the middle of the month with a strong ridge overhead like this: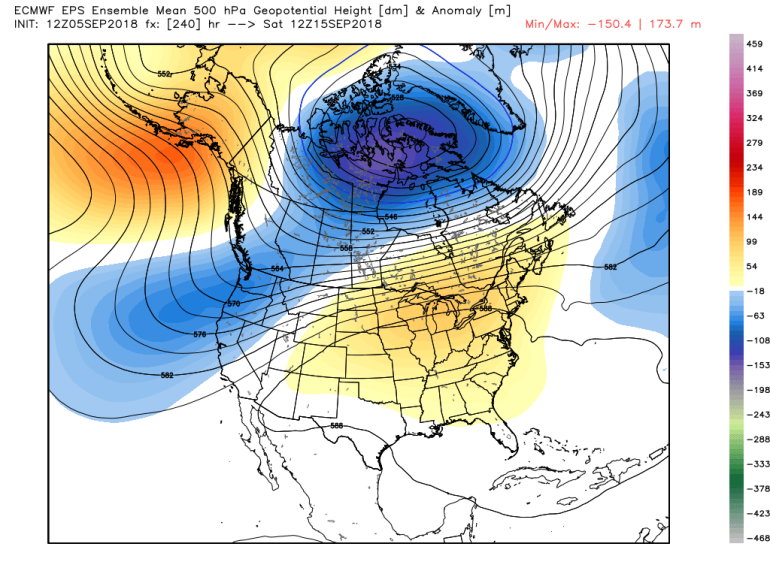 Need some specifics about the weekend or next week? They're always online at WHNT.com/Weather and in the "Daily Forecast" section on Live Alert 19!
-Jason
Connect with me!
Facebook: Jason Simpson's Fan Page
Twitter: @simpsonwhnt