This is an archived article and the information in the article may be outdated. Please look at the time stamp on the story to see when it was last updated.
Saturday and Sunday both feature a chance of some rain: hit/miss on Saturday, more widespread on Sunday. Neither day gives us a 100% guarantee of rain, though. That means if you've not had your fair share lately, it's still a little 'chance-y' that you will get some beneficial rainfall.
Outside of the storms, it just stay hot and humid! Afternoon highs will reach into the mid 90s on Saturday with a 'feels like' temperature upwards of 100°F-105°F! Those numbers drop slightly Sunday, as more clouds keep temperatures down by a few degrees, but we'll still make it into the 90s: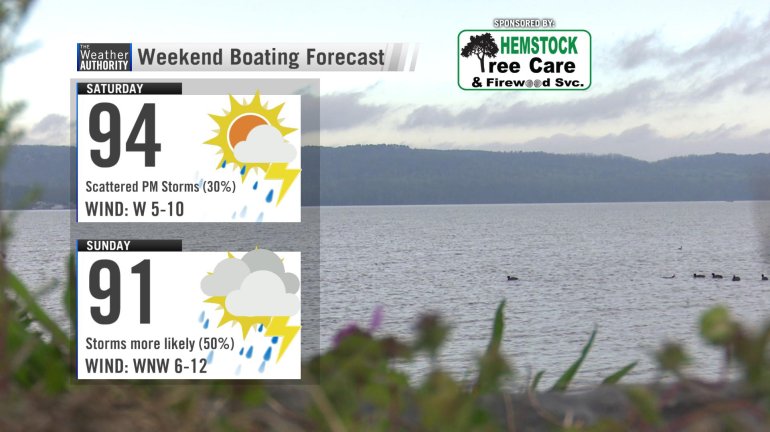 We will be keeping an eye on a complex of thunderstorms in Missouri moving southeast Friday evening into early Saturday morning. It looks like it will diminish before reaching the Tennessee Valley region; however, there is always a chance it might last a bit longer than model guidance projects! Don't be surprised if there are some heavier thunderstorms in The Shoals and Tennessee between 9 PM Friday and 3 AM Saturday.
Expect spotty storms Saturday. Another disturbance passes and helps move a weak cold front into the area Sunday. The front acts as a strong 'kick' for more widespread storms; however, the best chance of rain Sunday may come south of the Huntsville area. It's a close call on this one, so that's why we are leaving the chance of rain around 50% for Sunday.
Hot next week! Some of the hottest weather of the year develops next week!
We won't be breaking records, but even though the temperature may not break 100ºF, the heat index pushes 105ºF because of the heat/humidity combination from Tuesday to Thursday. Be sure to review the heat safety tips below — recognizing the symptoms for heat exhaustion and heat stroke may save a person's life.
(Is a cool down on the way? Check the WHNT News 19 forecast discussion)