This is an archived article and the information in the article may be outdated. Please look at the time stamp on the story to see when it was last updated.
It got cold again early Thursday morning; lows bottomed out as far down the thermometer as 20ºF in Russellville, 21ºF in Tuscumbia, and 27ºF in Huntsville.
It was cold enough in Fayetteville for 'frost flowers:' ground moisture that freezes and expands up in formations like this one from Julie and Jeff Helton:
Dry, chilly air blowing in around a strong 'high' northeast of the Valley makes it cold again tonight, but it won't be quite as cold as last night.
Late-night Black Friday shoppers will need some layers! Temperatures bottom out around 30ºF to 35ºF between 2 AM and 6 AM, but we've got a nice turn-around coming for Friday and Saturday: highs rebound to the lower 60s.
Weekend specifics: Another cold front blows through on Saturday, but the air behind it won't bring such a sharp change. It's a relatively weak cool front, so yet again we see no real threat of rain.
Sunday's weather behind the front is cooler: morning lows in the mid-30s, afternoon highs around 55ºF to 60ºF.
Iron Bowl: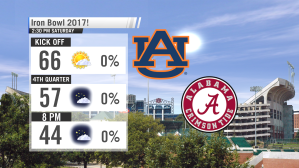 Alabama at Auburn: Jordan-Hare Stadium – 2:30pm – WHNT –
The Iron Bowl forecast looks good. Highs reach the middle 60s under a mostly sunny sky.
Expect middle 50s in the 4th quarter. No rain is in forecast. You can watch the game on WHNT News 19.
Slim chance of rain, slim chance of 'cold' next week: The 'average' high by next Monday is 59ºF. We don't see 'average' that often; in reality, we typically see a range of temperatures around that number: roughly 9ºF above or below would be considered 'close to normal' for the last week of November.
We'll be well within that range throughout next week. The one really unusual thing, though, is the dryness. We only have 0.85" of rainfall in November so far. That would be a dry week in an 'average' November. Instead, we're looking at a top-ten driest November on record for Huntsville.
There is a small chance of some rain with a cold front by next Wednesday; however, at this point, rainfall looks meager (if you get any at all).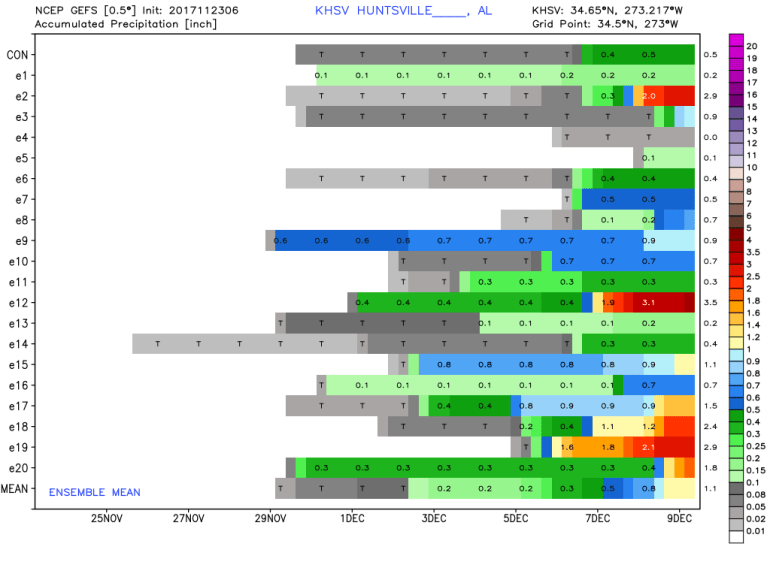 Only 3 of 20 GEFS ensemble members show rainfall over a 'trace' before December First. If we don't get measurable rainfall at Huntsville International, November 2017 will be the fifth-driest on record.
Looking for more weather details like day-by-day specifics? They're always online at WHNT.com/Weather and in the "Daily Forecast" section on Live Alert 19!
-Jason
Connect with me!
Facebook: Jason Simpson's Fan Page
Twitter: @simpsonwhnt