This is an archived article and the information in the article may be outdated. Please look at the time stamp on the story to see when it was last updated.
Every now and then you see something in the sky that just looks strange.  Nature typically doesn't make things go in a straight line, but it sure looked like someone had taken scissors to a band of high, thin cirrus clouds about 15,000 feet above the ground.
Cirrus clouds like that occasionally form as jet contrails, but with no other visible contrails in the area on satellite imagery or from the ground, this is just a cool band of clouds floating by on a hot afternoon.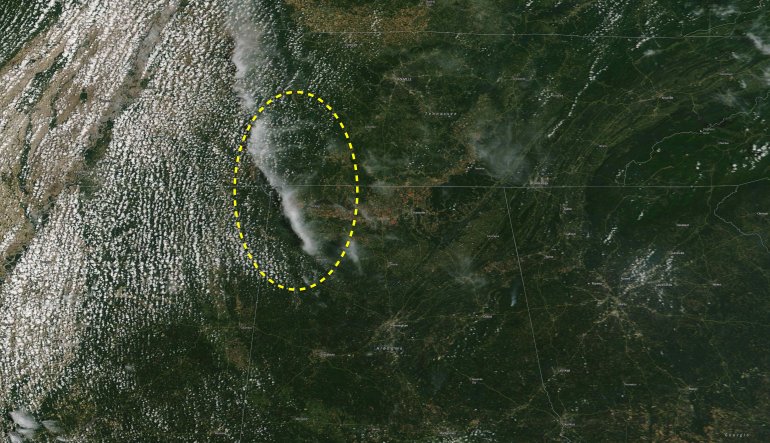 The clouds that look like 'popcorn' west of the cirrus are cumulus clouds forming in a marginally unstable environment.  That higher humidity air moves this way overnight setting us up for some widely scattered storms for the rest of the week.
Wednesday's chance of rain is tiny: barely worth mentioning except for the fact that should you get underneath one it could bring a healthy downpour.
The chance of rain Thursday and Friday increases to the 20-40% range because of two factors: higher confidence that spotty storms actually develop and higher probability of more than a hand full of communities get measurable rainfall. Thursday's best chance of showers and storms exists mainly south of the Huntsville area; that shifts northward on Friday mainly over Tennessee and far northern Alabama.
Storms thin out on Saturday (only a slim chance), but a cold front moving into the region sets up a better 'chance' on Sunday.
Need some specifics about the weekend or next week? They're always online at WHNT.com/Weather and in the "Daily Forecast" section on Live Alert 19!
-Jason
Connect with me!
Facebook: Jason Simpson's Fan Page
Twitter: @simpsonwhnt