This is an archived article and the information in the article may be outdated. Please look at the time stamp on the story to see when it was last updated.
We had a nice stretch of spring-like warmth this weekend into Monday. A cold front will bring us back down to reality for the rest of the week though.
The good news is that we're not going to see an 'arctic blast' like the one we started the year with or the one we went through last week. Instead we'll just get knocked back down to seasonal averages; that puts highs back in the low 50s and lows in the low 30s.
Why don't we see another hit of arctic air with this front? The overall weather pattern is driven primarily by upper level wind pattern and the jet stream. When the jet stream dives down south, it often brings in segments of arctic air. This week the jet stream will stay just to our north, keeping the arctic air locked up in Canada. The cooler air that we'll be feeling this week originates from the Pacific instead of the arctic.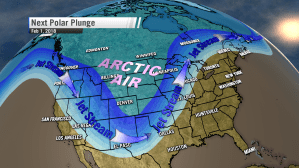 This doesn't mean the jet stream won't make another run for the south before winter is over. In fact, there are some indications that we could get another dose of frigid air in the first week of February.
Arctic air can 'modify' as it moves away from the Arctic and runs into warmer air. With that in mind, we'll have to keep an eye on long-range guidance to see how much of the truly arctic air could make it into the Tennessee Valley. Right now it looks like you might need the heavy coats and gloves again in the next two weeks!