This is an archived article and the information in the article may be outdated. Please look at the time stamp on the story to see when it was last updated.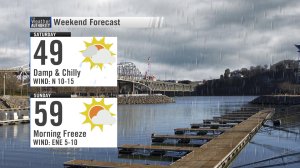 Another weekend is here and another wave of scattered showers has come with it. The rain that will be around on Saturday will be light and spotty, while the heaviest rain stays to our south along a cold front.
Cooler air will be settling in behind the cold front that moved through Friday night, so temperatures will struggle to warm up at all today. Huntsville's coldest high temperature on record for April 7th is 45°F; we likely won't break that record, but we'll come close! Expect highs near 50 with a 'feels like' temperature in the low 40s.
By Sunday, the front will move off to the southeast coast, allowing us to dry out overnight. Huntsville will once again approach its record low of 26°F, but likely won't quite make it. It will still be cold enough for a Freeze Warning to be in effect from 1AM-8AM Sunday. Lows will fall into the upper 20s, so be sure to bring in your pets and cover your plants tonight!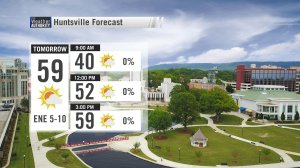 Finally on Sunday we'll get to see a little sunshine to help warm us up slightly. Temperatures will rebound into the upper 50s and low 60s Sunday afternoon with partly sunny skies.
As for next week: A few more scattered showers come through Tuesday and Wednesday, but it won't be accompanied by another cold blast like the one we're getting this weekend. Afternoon highs stay in the 60s most of next week and might even make it into the 70s by next weekend!