This is an archived article and the information in the article may be outdated. Please look at the time stamp on the story to see when it was last updated.
Cool, dry air is settling into the Tennessee Valley behind a cold front that moved through early Wednesday. That's going to set us up for a very pleasant Thanksgiving day!
We start with a freeze as the sun rises on Thanksgiving. Scattered frost is likely, but won't last long thanks to mostly sunny skies. Afternoon highs push into the upper 50s with light winds helping to keep it comfortable.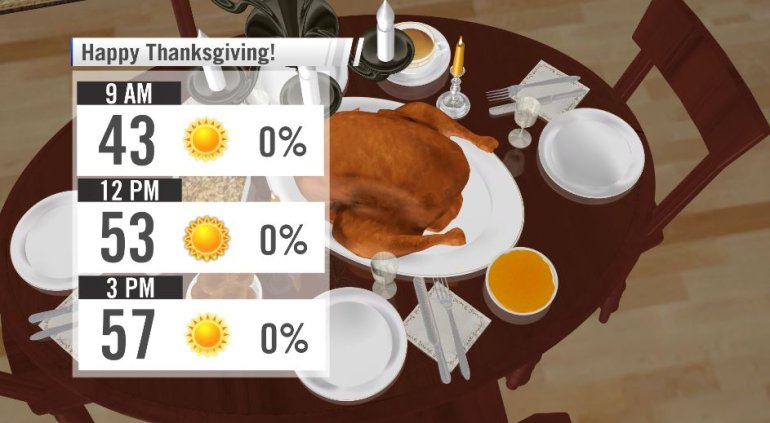 Once we lose the sun, temperatures will cool down quickly. Temperatures will fall back into the 40s after 5PM.
A 'Typical' Thanksgiving: Huntsville's average high temperature on Thanksgiving sits near 60°F with a low near 40°F. We'll be a hint below average, but not outside of what's considered normal for this time of year.
When it comes to the rest of Thanksgiving climatology, the records can get confusing. That's because Thanksgiving can fall anywhere from November 22nd-November 28th (or through November 30th before Thanksgiving was declared the fourth Thursday of November in 1942).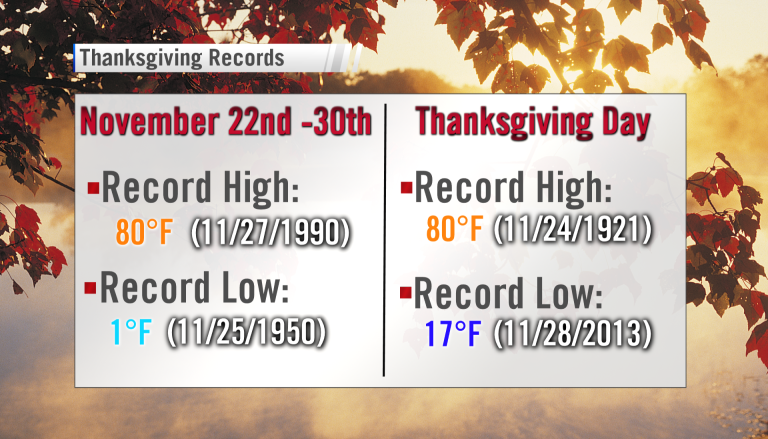 The coldest temperature recorded on any date from November 22nd-November 30th was 1°F, recorded on November 25th in 1950. However, Thanksgiving landed on the 23rd that year. So, while we have had single digit temperatures during the time in which Thanksgiving could fall, we haven't had single digit temperatures on a Thanksgiving day. The actual record low temperature for Thanksgiving day in Huntsville is 17°F, which was set November 28th, 2013.
The record high for the period November 22-30th is 80°F. This also happens to be the warmest Thanksgiving Day on record.
The coldest high temperature on Thanksgiving was 29°F, back in 1930. That makes the 50s this year seem pretty nice!