This is an archived article and the information in the article may be outdated. Please look at the time stamp on the story to see when it was last updated.
It's dry and cold in the short-term, but there are some changes afoot in this fast-paced December weather pattern!
Clouds thicken again Thursday and Friday, and some showers develop late Friday evening. By the time the rain gets here, temperatures will be high enough to prevent any wintry weather, but it will be wet! Steady, soaking rain begins Saturday morning and lasts all day long. That's right: ALL. DAY. LONG.
Rain on Saturday, Saturday night and Sunday likely adds up to more than 1-2 inches for most of North Alabama. We could even have a few spots getting 3 inches by Sunday morning.
The whole time it's raining, it's cold: temperatures hover between 35ºF and 45ºF all weekend. Showers likely change to either a rain/snow mix or all snow during the day Sunday. Accumulation seems rather unlikely at this time; however, the leftover moisture behind this strong storm system could keep snow showers coming through Monday, and some minor (less than 1") accumulations of snow could happen in especially the higher terrain in Northeast Alabama Sunday into Monday.
Is there still room for this to be a bigger-than-advertised winter storm? Yes. The same uncertainty that gives snow-lovers hope also gives snow-haters hope; it could be all rain at this point. We're still just too far out to see precise detail (although it's looking a little better for at least  a little snow now than it did yesterday).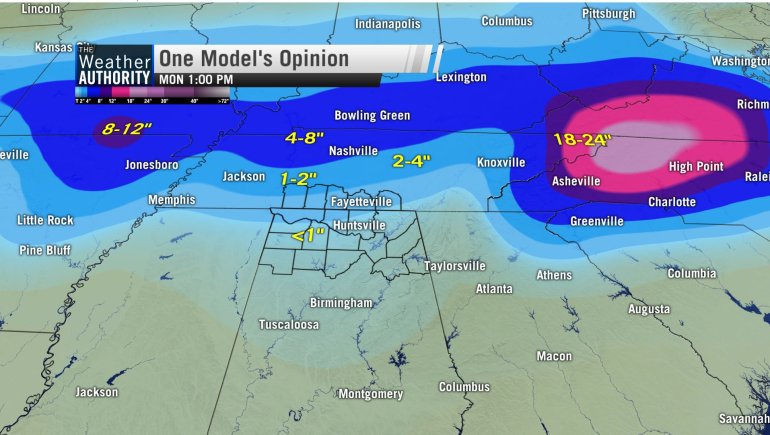 Warming up some? November was cold relative to the thirty-year average; December looks cold for a while, but there is a warming trend afoot toward the middle of the month. That 'warming trend' may do a good job of getting us up near or slightly above average for a little while, but there's no obvious period in model guidance that shows it right now, it would not be surprising to have a few days with temperatures pushing or exceeding 70ºF before Christmas.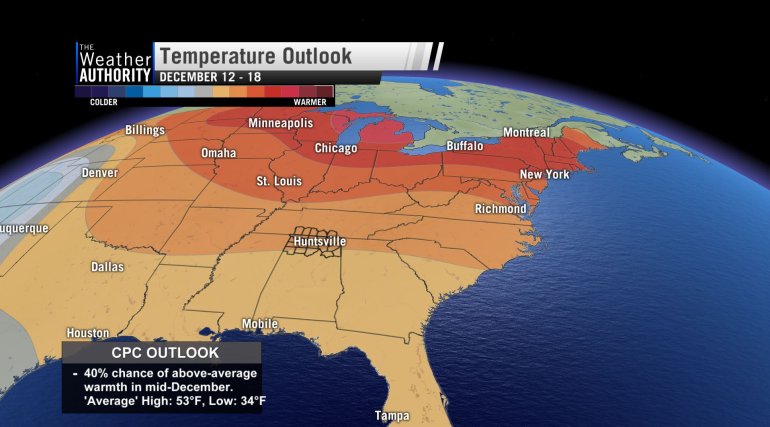 Hoping for a White Christmas?
It's been eight years since the biggest White Christmas on record in North Alabama.  It had been twenty-one years since the one before that with some light snow on Christmas Eve and Christmas Day 1989.
The historic odds of a White Christmas are tiny in Alabama, but it's never zero in any given year until the weather shows us what it's going to do.  That is to say – there's always a chance something could happen until it doesn't.  Simple, right?
If you're hoping for a White Christmas this year, you need to be pulling for European ensemble member numbers 30, 37, 44 and 47.  (Sounds like we're playing Powerball, huh?  It's not all that different in trying to guess exactly how a single day's weather will be three weeks in the future!)
The weather pattern OVERALL will favor more cold, snowy weather this winter. It wouldn't take much to beat last year's whopping 0.4″ of snow in Huntsville, but as far as cold went, the four weeks following Christmas Eve were the coldest such four weeks on record.
Will this end up like 2014 and 2015 when it snowed and snowed and snowed, or will we be waving as it passes to the south or north? We don't know yet, but you can bet we'll be watching it.
Personally, I can't wait to cash some grocery store checks. (If you think I'm serious, I have a bridge for sale, too.)
Looking for the forecast? It's always online at WHNT.com/Weather and in the "Daily Forecast" section on Live Alert 19!
-Jason
Connect with me!
Facebook: Jason Simpson's Fan Page
Twitter: @simpsonwhnt