This is an archived article and the information in the article may be outdated. Please look at the time stamp on the story to see when it was last updated.
The past two days have been no fun. It's been chilly and wet.
Some spots already have more than three inches of rain, and there's more to come through Tuesday evening:
Refresh this page for the latest radar image: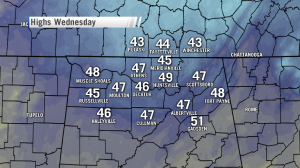 Once the rain moves out tonight, we get a little temperature set-back. Highs only reach the middle and upper forties on Wednesday afternoon – thanks mostly to the clouds that just won't want to move out very quickly.
A few hours of sunshine may get a few communities close to 50ºF, but those who stay cloudy won't even come close.
Then, there's a nice warming trend on the way!  Check out these numbers going into the weekend.  Near 70ºF?  Yes, please!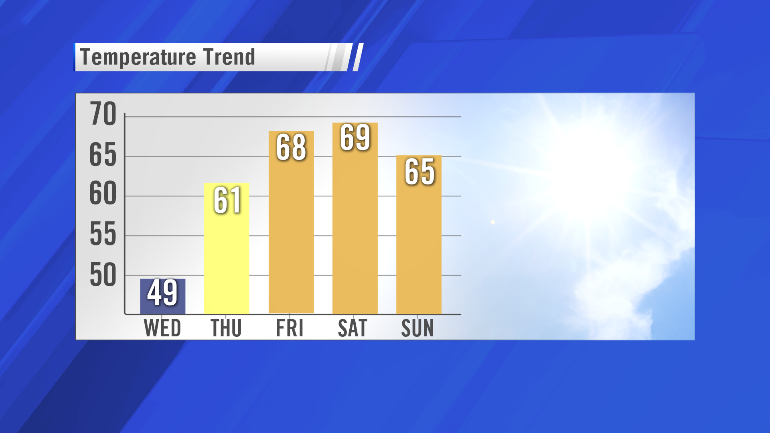 Looks can be deceiving. Those numbers over the weekend come with a chance of more rain.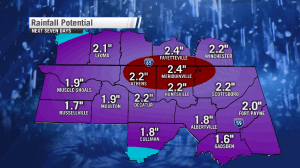 Most of it comes Sunday night into Monday, but let's face it, take away full sunshine and 60s just aren't quite as warm as they look on the board there.
Some guidance forecasts locally heavy rain again for Sunday and Monday; some 1-2″ totals aren't out of the question.
The American-run GFS model is the most "bullish" with heavier downpours through Monday.
After that, the pattern is there for what *might* be a winter weather threat or two.  The clock is running out on us for snow.  We do occasionally get good snowfall in late February and March, but the majority of Huntsville's snowfall history comes before Valentine's Day.
71% of our annual snowfall comes on or before this date (Feb. 16th)
The median date in February for "measurable" snow is February 11th (most of it occurs prior to that date – based on 71 measurable events since 1900).
Huntsville has only recorded 24 measurable snows in the month of March since 1900.  The greatest was on March 12-13, 1993 (the "Blizzard" didn't really hit Huntsville all that hard).
Outside of the "Dogwood Snowstorm" on April 7, 1987, there are only second and third-hand stories about snow and freezing weather as late as April and May (I believe them, but we can't pin it down to a particular day for statistics).
-Jason
Connect with me!
Facebook: Jason Simpson's Fan Page
Twitter: @simpsonwhnt