This is an archived article and the information in the article may be outdated. Please look at the time stamp on the story to see when it was last updated.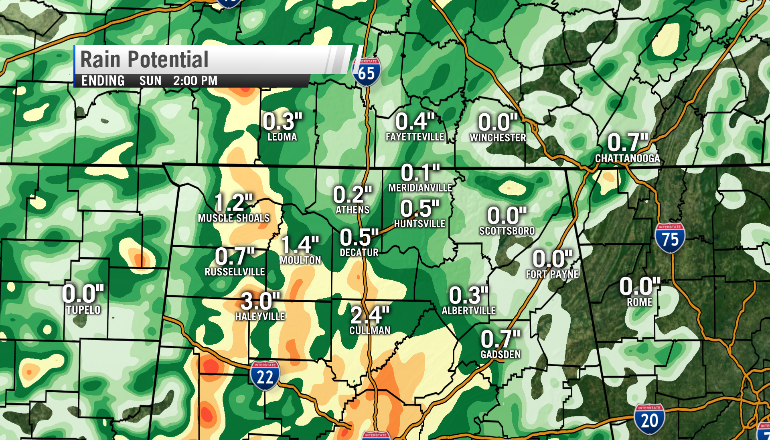 HUNTSVILLE, Ala. – While the stubborn September heat will continue well into next weekend, an increased chance of rain and storms this weekend may provide a few with some beneficial rain and some slightly cooler weather.
A weak cool front moving into the region Saturday slows, stalls, then essentially dissipates by Sunday night. The upper-air system forcing the front south still brings enough dynamics (lift) to get scattered showers and storms going both days.
For Saturday, the best chance of some locally-heavy rain comes over Northwest Alabama with more isolated, pop-up activity around the Huntsville-Decatur area and points east toward the Georgia border. Rain and thunderstorm coverage could be fairly widespread in North Mississippi and Northwest Alabama through 4 p.m. Saturday; then those storms shift east toward Huntsville through 7 p.m. (diminishing as they move east).
A more organized area of showers and storms develops Sunday morning near I-65 and slowly expands to cover much of Northeast Alabama through the afternoon and evening. Locally-heavy downpours could drop over an inch of rain in less than an hour.
Forecast for Alabama's game with Ole Miss in Oxford, MS Saturday afternoon (Image: WHNT News 19)

Forecast for Auburn's home game Saturday night (Image: WHNT News 19)

Forecast for Alabama A&M University's home game Saturday evening (Image: WHNT News 19)

Forecast for the University of North Alabama's home game Saturday evening (Image: WHNT News 19)
If you have outdoor plans either day, just be sure you're aware of the surroundings whether you're at Depot Days in Hartselle, Boom Days in Fort Payne, a college football game, or just doing yard work. These storms can sneak up on you if you're not watching the radar, and since they aren't driven by one single feature, they can occur almost anywhere around here during the warmest part of the day.