This is an archived article and the information in the article may be outdated. Please look at the time stamp on the story to see when it was last updated.
This was a first for me!  I usually visit schools to talk about weather, talk about safety, or talk about science in general.  Friday morning at Central Elementary School in Ryland was special because I actually got to help the kids who spend their time helping others when the weather isn't quite so nice outside.
These students make up the Central Elementary Safety Patrol.
Remember that rainy, windy day back on September 1st?  These kids do.  That morning as the remnants of Hurricane Harvey passed north of Madison County, the rain and wind were relentless.  This is what their stock of umbrellas looked like before the car line finished that morning: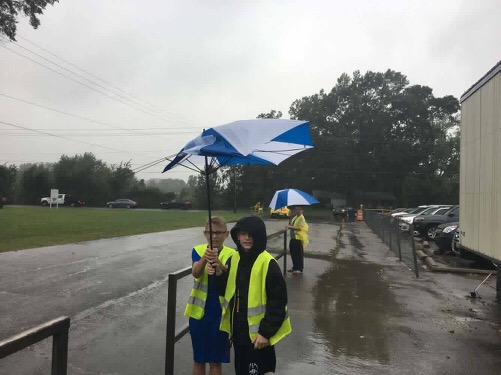 These young men and women stuck it out through the rain and wind and got the job done.  That's when sponsor Kasi St. Clair sent me a message asking for some nice umbrellas.  We were happy to help!
You'll see more about what happened today on WHNT News 19's Facebook page soon, but here's the preview I showed on WHNT News 19 at 5:00 Friday evening!
-Jason
Connect with me!
Facebook: Jason Simpson's Fan Page
Twitter: @simpsonwhnt