This is an archived article and the information in the article may be outdated. Please look at the time stamp on the story to see when it was last updated.
Have you noticed the days getting shorter?  We lost 2 minutes and 7 seconds of daylight Thursday.  The stadium lights will be shining a little brighter Friday night as the sun sets just right around 7:02 PM.  Get this: the sun sets 31 minutes earlier by the end of the month!  If only we could get temperatures to come down to make it feel more like Fall as it's starting to look more like Fall!
The first eight days of September have sure been hot ones! The average high temperature September 1-8 is a scorching 94ºF. The average daily temperature is 82ºF making this the sixth-hottest start to September on record in Huntsville. There's more heat coming, but we do see a brief break with a cool front over the weekend.
Some patchy fog may develop in spots where temperatures dip as low as the mid-60s overnight (mainly over Northeast Alabama). The heat is on again for Friday: highs in the mid-90s with just a small, 10% chance of any isolated showers in the afternoon.
Football Friday and the Weekend: Friday and Saturday still look very hot, but low humidity keeps the heat "in check."  In other words, what you see is what you get: highs in the middle to upper 90s won't feel any hotter because of the sultry summertime humidity.  On the flip side of that, the dry air means we see very little hope of a cooling, dust-settling shower or thunderstorm.
High school football stadiums will be blazing hot between 5 and 6 PM, but the sun sinks a little lower in the sky now than it did at the start of the season, and temperatures drop a little faster: mid-80s at kick-off, upper 70s by the fourth quarter.  An isolated shower is possible, but rain is far from "likely."
Get set for Football Friday on WHNT.com with player profiles, pep rallies, and of course, specific game forecasts!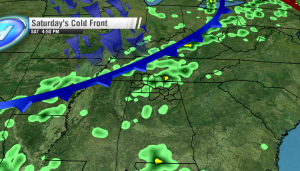 The weekend still looks hot, but a cool front late Saturday evening brings with it a chance of some hit-or-miss showers and storms.  The best chance of rain is about 20-30% for a tenth of an inch of rain; The Shoals stands a better chance of getting rain than areas from Huntsville east and south toward Sand Mountain and Lookout Mountain.
The timeline for showers and storms: after 4 PM in The Shoals, after 5 PM in Huntsville. What few showers we have won't last long and won't bring much rain.
Cooler, drier air arrives on Sunday. Some of the mountainous areas won't even see 85ºF Sunday afternoon; we expect most communities end up between 84ºF and 89ºF by mid-afternoon under a sunny sky with a nice north breeze.
Need some specifics about the weekend or next week? They're always online at WHNT.com/Weather and in the "Daily Forecast" section on Live Alert 19!
-Jason
Connect with me!
Facebook: Jason Simpson's Fan Page
Twitter: @simpsonwhnt