This is an archived article and the information in the article may be outdated. Please look at the time stamp on the story to see when it was last updated.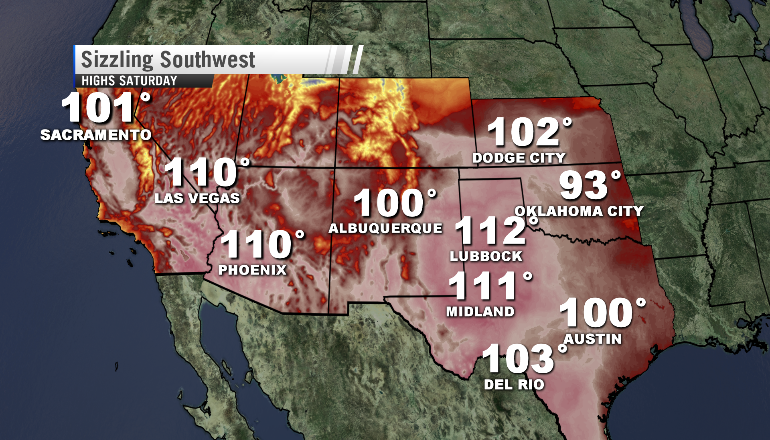 PHOENIX –  High pressure aloft will expand across the western U.S. through Monday, with dry conditions and sizzling hot temperatures prevailing for most areas.
The high in Death Valley, California – notorious for being one of the hottest places in the country – hit 120 degrees Saturday! The overnight low only fell to 87 degrees.
Afternoon highs climbed above 100 degrees across much of the Desert Southwest Saturday.
Triple-digit heat was also spreading across West Texas, where the high in Lubbock and Midland was over 110 degrees. Lubbock shattered its previous record high for the date by eight degrees.
Excessive heat warnings continue for southern Arizona, Nevada, and the San Joaquin and Sacramento Valleys in California.
The National Weather Service in Las Vegas noted that heat like this is rare, even in the Southwest. High temperatures will be near record levels for several more days as this heat wave continues.
Temperatures will rise substantially across much of the West by Monday, with highs soaring well into the 90s from the interior West Coast states to the Great Basin, 10 to 20 degrees above average.
Highs in the California Central Valley and across portions of the Desert Southwest may surpass 110 by Monday.