This is an archived article and the information in the article may be outdated. Please look at the time stamp on the story to see when it was last updated.
Hot for one more day, then temperatures slide back to more tolerable levels
Eighties and nineties are not exactly uncommon in late September; Huntsville International records 90-degree warmth as late as October 19th (last year), but the majority of our 90-degree days are usually finished by now. Huntsville hit 91ºF Wednesday: the 53rd 90-degree day of the year.  We've got one more ahead of us before the weather improves!
Expect a quiet, calm night with some patchy fog in the usual spots (near rivers, lakes and in the deeper valleys). Low temperatures drop as low as the upper 50s in the lower terrain of Jackson and DeKalb Counties as well as northeastern Madison County to the mid-60s in Huntsville and The Shoals. Wednesday heats up quickly: highs at or above 90ºF with a 'feels like' temp approaching 95ºF by mid-afternoon. A cold front breaks the excessively hot weather for a while, but it won't really bring much of a chill to the air later this week.
Cold front arrives early Thursday: Big transitions from hotter weather to cooler weather often involve some heavy thunderstorms: not this time.
The cold front moving into Alabama and Tennessee Wednesday night offers no real threat of rain, storms, or any kind of inclement weather.
In fact, you may not even notice a front has come through until the cooler air makes a bigger impact around here on Friday.
The northwest wind will drop the humidity on Thursday, but it still gets a littler warmer than 'average' for late September (high: 84ºF, average high: 81ºF).
Cooler air keeps moving south Thursday night through Saturday dropping temperatures a little more for Friday, Saturday and Sunday.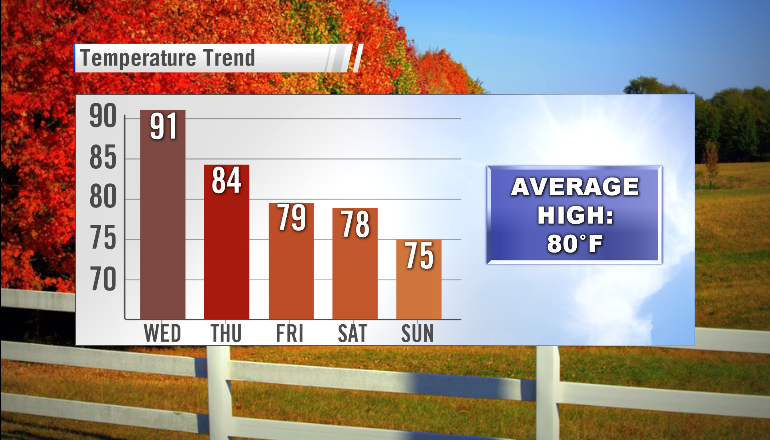 Need some specifics about the weekend or next week? Football forecasts? They're always online at WHNT.com/Weather and in the "Daily Forecast" section on Live Alert 19!
-Jason
Connect with me!
Facebook: Jason Simpson's Fan Page
Twitter: @simpsonwhnt