This is an archived article and the information in the article may be outdated. Please look at the time stamp on the story to see when it was last updated.
A cold front slowly slid southeast across the Tennessee Valley region Tuesday, allowing a gradual temperature and humidity drop; 'gradual' is the key word here! Although a few clouds linger this morning, drier air replaces the thick tropical humidity ending the chance of rain for Wednesday.
It doesn't get quite as hot Wednesday afternoon. High temperatures make it into the middle 80s with a partly to mostly sunny sky. You will finally notice the humidity drop by this afternoon, and it gets nice and comfortable Wednesday night into Thursday morning: lows in the 50s and lower 60s.
Dry as a bone through Friday: A very uneven pattern of scattered storms in recent days left some soaked and others wanting more. The good news for those who are soaked is that it's going to get dry quickly. The bad news for those who are still dry: it's going to get drier quickly.
Low humidity, nearly full sunshine, and warm days will dry out the wet ground quickly (and get the dry ground even drier if that's possible).
The rain chance is practically zero through Friday, but the humidity increases again this weekend giving us a slim chance of a few brief showers or thunderstorms.
Weekend weather: It's going to get hotter and more humid for Saturday and Sunday! Expect highs back into the lower 90s with a heat index around 95ºF to 99ºF both days. There is a low-end chance of a few brief showers and/or thunderstorms in the afternoons, but this is nothing to cancel plans over at this point.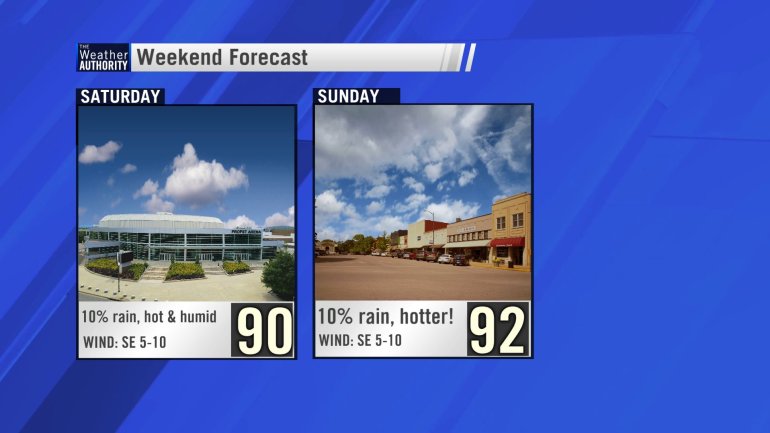 Heat wave ahead: The hottest day of 2018 so far came on August 7th when Huntsville topped out at 97ºF.
A strong ridge building in over the region this weekend and for most of next week practically shuts down the chance of afternoon and evening downpours; however, it's possible that a hand full of them could develop on any given day.
That ridge squeezes down on the atmosphere suppressing the upward motion that creates summertime storms, and the 'sinking' air also warms and dries at it descends toward the ground. We expect high temperatures to return to the middle (and possibly) upper 90s next week; the heat index could surpass 105ºF again between Wednesday and Friday.
So yes, it's looking extremely hot for the second week of high school football!
Need some specifics about the weekend or next week? They're always online at WHNT.com/Weather and in the "Daily Forecast" section on Live Alert 19!
-Jason
Connect with me!
Facebook: Jason Simpson's Fan Page
Twitter: @simpsonwhnt