This is an archived article and the information in the article may be outdated. Please look at the time stamp on the story to see when it was last updated.
That hot, sticky air outside Friday afternoon is fueling storms north of the Tennessee Valley, and some of those could make it as far south as the Tennessee River late this evening. The odds of substantial rain are small, so don't cancel your plans tonight. Just be aware that some storms are possible after 7 PM (mainly in Tennessee).
It won't be very pleasant out tonight: temperatures hanging in the upper 80s after sunset with high humidity and a slight breeze stirring. The heat backs down some over the weekend with a better chance of scattered showers and storms both days.
What to expect from weekend storms: A weak cool front and a slow-moving upper-air disturbance combine to enhance the chance of weekend showers and storms; however, it's not enough for a guarantee of widespread soaking rain.
The key to navigating the weekend is Live Alert 19. As spotty showers and storms develop, you can use the interactive radar feature and the short-term forecast information there to keep you ahead of any developing storms. Storms that pop up around here this weekend could be locally heavy, and a few may briefly turn severe with strong gusty winds, small hail, and frequent lightning.
So when should you look for better coverage of showers and/or storms this weekend?
Saturday's best opportunities come in the morning hours (before 9 AM) and again between 1 PM and 7 PM with heat-of-the-day, pop-up, hit-or-miss downpours.
Sunday's better chance of rain comes in the afternoon and early evening near and just south of the cool front. That's when we expect the best coverage of scattered storms all weekend; however, "best" does not mean 100% chance of a soaking. Some will still miss the good rain again this go-around.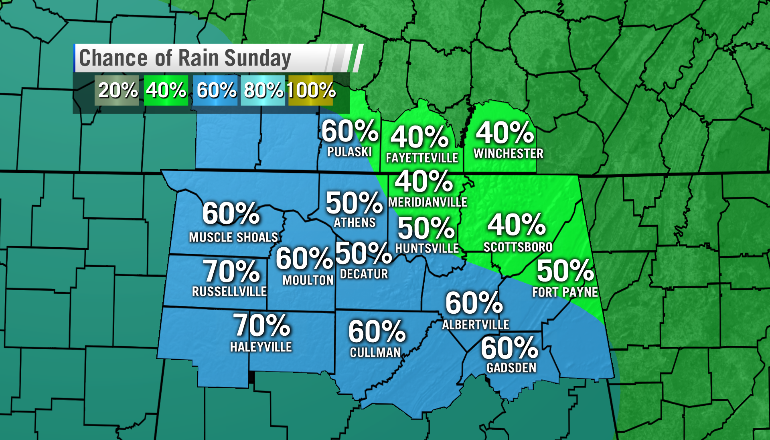 Neither day is a wash-out, but whether your plans take you to a State Park, a lake, a pool, or to the backyard with a weed eater, be aware of the chance of some spotty storms that could briefly turn ugly with some stout wind gusts!
MORE ON THE BLOG: Extreme Drought Expands at WHNT.com.
-Jason
Connect with me!
Facebook: Jason Simpson's Fan Page
Twitter: @simpsonwhnt