This is an archived article and the information in the article may be outdated. Please look at the time stamp on the story to see when it was last updated.
Spotty thunderstorms Tuesday afternoon last through early evening; some of them could briefly produce strong enough winds to cause minor wind damage as well as heavy rain, dangerous lightning and small hail.
Track heavy storms with WHNT.com's Interactive Radar or swipe over to the radar feature on Live Alert 19!
Afternoon and evening storms fade away as the temperature drops after sunset. It's so warm and muggy that we only fall into the upper 70s and lower 80s by 10 PM. It stays sticky tonight: lows in the mid-70s with a light south wind.
Expect more of the same on Wednesday: more heat, more humidity, and a heat index that tops out close to 100ºF by mid-afternoon. The big difference on Wednesday? A better chance of scattered showers and thunderstorms (some of which could be heavy). The rain chance stands at 50% in the Huntsville area for Wednesday mainly from around 11 AM to 7 PM. A weak cool front inches closer and closer to the region Wednesday and Thursday increasing clouds and the daily coverage of scattered thunderstorms.
Summer storms can be rough! 'Summer storms can be some of the worst weather you see in a calendar year without being 'severe.'' A severe storm must have winds greater than 58 miles per hour and/or hail the size of a quarter or larger. Most of our storms this time of year don't meet that definition precisely, but they can still get rough! A 45 mile-per-hour wind gust from a thunderstorm can toss a trampoline, rearrange your patio furniture, and even topple a tree if it hits it just right.
Any of the storms that develop through the rest of this week and over the weekend have the potential to create downbursts: strong downdrafts from thunderstorms that hit the ground with high enough impact to cause wind damage. Read more about summer storms and their hazards here on WHNT.com.
Stalled front, scattered storms: The forecast is simple through the weekend, but the specifics are impossible. We know there will be some pop-up, hit-or-miss, unevenly scattered showers and storms each day, but there is no real way to 'know' precisely where one will happen or not on a given day at a given time.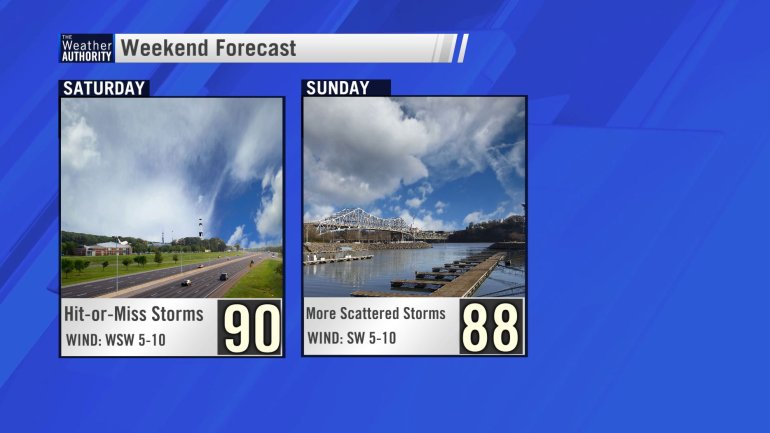 If you have outdoor plans on Friday, Saturday or Sunday, be sure you're aware of what's happening with the storms in the area! If you see a dark sky in the distance or Live Alert 19 notifies you of storms in the area, be ready to adjust your plans accordingly!
The front dissipates by the first part of the week, and we'll see drier and hotter weather return by the middle of next week.
Need some specifics about the weekend or next week? They're always online at WHNT.com/Weather and in the "Daily Forecast" section on Live Alert 19!
-Jason
Connect with me!
Facebook: Jason Simpson's Fan Page
Twitter: @simpsonwhnt