This is an archived article and the information in the article may be outdated. Please look at the time stamp on the story to see when it was last updated.
Rain has been awfully hit-or-miss around these parts lately, and without several big soakings soon, the Tennessee Valley likely sees the "abnormally dry" and (D1) "moderate drought" conditions worsen in coming weeks.  Thursday's rain potential is decent, but it will not be enough to make up for lost rainfall this Spring.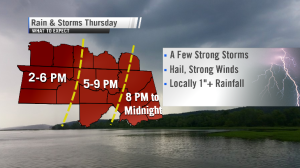 Some heavy storms possible: The Storm Prediction Center outlined a small risk of a few severe storms in the Tennessee Valley region on Thursday. This is not the same kind of severe weather threat that materialized earlier this week in the Plains and Ohio Valley; some heavy storms may briefly become severe Thursday evening producing hail and gusty winds.
Stay ahead of disruptive storms on the go with Live Alert 19's interactive radar, lightning alerts, and frequent forecast updates: Live Alert 19 and the WHNT News 19 App.
Quiet and cool for the weekend: A cold front passes early Friday morning pushing the rain out and ushering in some unseasonably cool weather for the weekend. Daytime highs rise to near 80ºF on Friday, but it gets cooler on Saturday and Sunday: highs in the 70s, lows in the 50s with some sunshine among cloudy periods.
Sunday's forecast is a little challenging; model guidance suggests highs in the mid-60s with a small chance of some showers. Huntsville averages 2-3 days in the month of May with highs under 70ºF, so it is not unprecedented to get that cool this time of year. We will keep the high in the low/middle 70s for now, but there is reason to believe temperatures may need to be lowered for the second half of the weekend.
-Jason
Connect with me!
Facebook: Jason Simpson's Fan Page
Twitter: @simpsonwhnt