This is an archived article and the information in the article may be outdated. Please look at the time stamp on the story to see when it was last updated.
Gusty winds, heavy rain moving out of the Valley, chilly air returns Thursday night
Strong to severe thunderstorms moved into the Tennessee Valley early Thursday morning, prompting a few tornado warnings before producing storm damage in Franklin, Colbert and Lauderdale counties.
The line of heaviest rain is quickly pushing east through Jackson and DeKalb counties and will be out of the area after 1pm. Behind it, cloudy conditions will stick around, as well as a few lingering showers. Winds will shift directions Thursday evening (from the south to the northwest), signaling a big temperature drop on the way!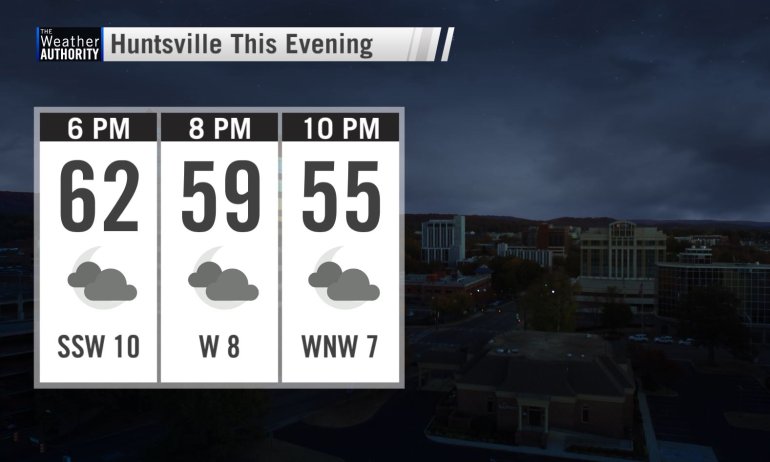 Friday and the weekend: Rain sticks around through Friday morning in the form of some spotty showers, and it gets much cooler! Friday starts in the 40s, warms to the mid-50s in the afternoon with a mostly cloudy sky. These temperatures are as much as 15 to 20 degrees cooler compared to Halloween Night and early Thursday morning! Friday would be perfect "hot chocolate" weather for Football Friday high school games as temperatures will drop into the mid-40s during halftime under a partly cloudy sky.
Saturday and Sunday look gorgeous: morning lows in the 30s/40s and afternoon highs in the 60s.
Don't forget to "turn back time" by setting any manual clocks backwards Saturday night: Daylight Saving Time ends and we begin Daylight Standard Time at 2am Sunday morning.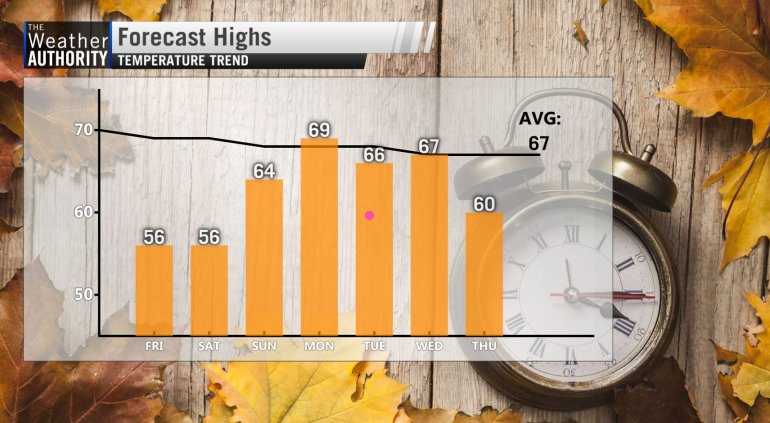 Another wave of active weather: November brings a fast-paced weather pattern just about every single year. This week's storm system may not be a 'big' one for North Alabama, but November is the peak of our secondary tornado season! Another rough-looking system next week will likely produce severe weather in this part of the country (i.e. the South); however, it is going to take some time to determine the details of exactly when and where. Be aware of this risk for the Monday-Tuesday timeframe; it should turn much cooler again behind that round of storms. Click here to read more details within our forecast discussion.