This is an archived article and the information in the article may be outdated. Please look at the time stamp on the story to see when it was last updated.
The drought in the Tennessee Valley (along with much of Central Alabama, Southern Tennessee and North Georgia) is about as bad as it gets.  Some communities have not had appreciable rainfall in months, but there are some signs of change ahead.
Dry weather and dry air are causing lots of problems from agriculture to allergies; if you're feeling dehydrated or have a cough you just can't get rid of, it may be the weather.
It gets cold early Tuesday!  Expect another freeze as temperatures fall into the middle and upper 20s by daybreak. Some clouds drift into the region Tuesday, but rain holds off until Wednesday. Afternoon highs climb into the middle 60s on Tuesday, but clouds and some scattered showers keep it cooler on Wednesday.
Rain is coming on Wednesday, but a single number (60%) does not tell you the whole story.  This is a sixty percent chance of at least 0.10" of rain: not enough to make much of a difference.  There are some better chances of rain coming just beyond the Thanksgiving holiday; the pattern isn't "normal" yet, but there are signs that we'll be getting closer to that over the next 10-20 days.
What to make of rain chances:
A 60% chance of rain does not mean you will get soaked; it's a statement of confidence that there will at least be some rain on radar (and reaching the ground) on Wednesday.
The over-all odds of at least one inch of rain through early December are as high as they've been in months: around 90 percent across much of Alabama, Mississippi, Tennessee, and Georgia. That rain comes in 3-4 different waves.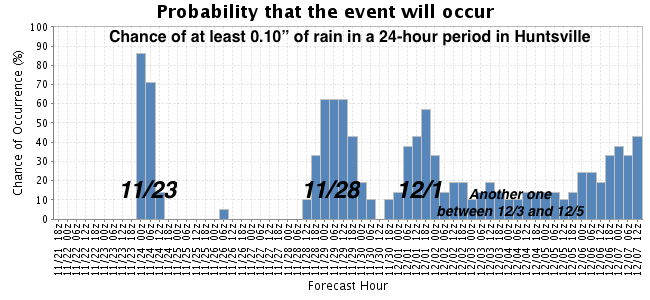 The first wave arrives midweek: Wednesday morning through Wednesday afternoon. Showers and even a few isolated thunderstorms are possible through a 12-hour window (roughly 6 AM to 6 PM) in the Tennessee Valley.
Thursday and Friday look dry and seasonably mild for Thanksgiving, but another system heads this way late in the weekend spreading clouds in on Saturday and Sunday.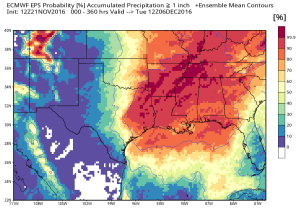 Some rain and a few thunderstorms are possible again late Sunday night into Monday (another roughly 12-hour window from around before sunrise to sunset).
We'll dry out on Monday evening and Tuesday; then we have another chance of some appreciable rainfall toward the middle of next week.
That system is a tough one to time out at this point, so be sure to check in with us here and in the "Daily Forecast" section on Live Alert 19!.
The specific information posted there is not just a computer-generated forecast; any changes to the timing, temperatures, rainfall, etc. have been done by hand.
-Jason
Connect with me!
Facebook: Jason Simpson's Fan Page
Twitter: @simpsonwhnt