This is an archived article and the information in the article may be outdated. Please look at the time stamp on the story to see when it was last updated.
You couldn't set this up better if you tried: huge snow in December barely misses the Huntsville area, next decent one sets up in…Florida and southern Georgia.  Snow fans are face-palming; snow-haters are rejoicing that it's not us with all of this cold weather!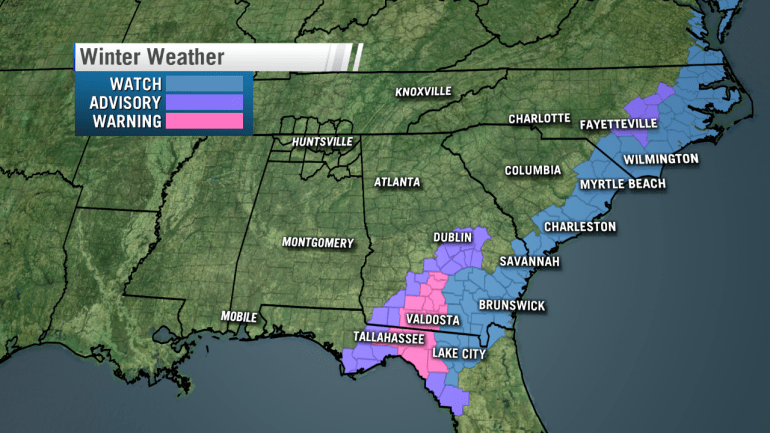 So how much snow are they getting?
Enough to make a snowman in some spots for sure! Average accumulations from just north of Tallahassee to the South Carolina coast could be as much as 1-3″ with a few 4-5″ totals thrown in here and there.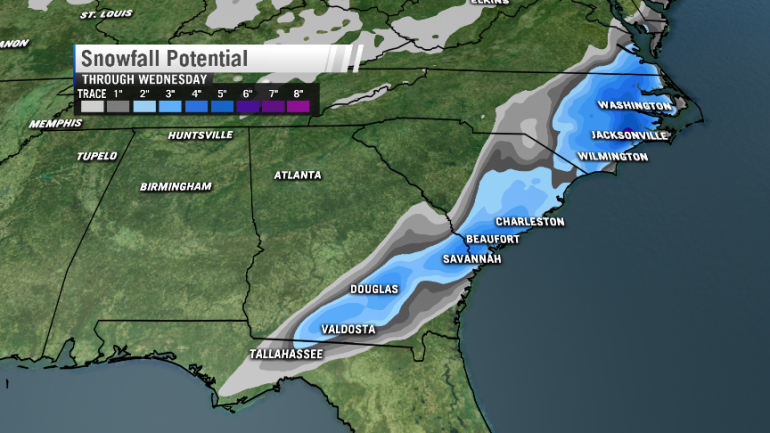 Any chance of snow anytime soon here? In short, the answer is no. There is a slim chance of a little wintry mix Sunday as precipitation moves into Alabama and Tennessee; however, the coldest air should be long gone by then leading to a chilly, rainy Sunday night and Monday.
Behind that rain, it turns colder again next week (just not as cold as this week).
No forecast modeling other than two members of the GEFS ensemble guidance give us a chance at snow before mid-January now. That's probably as reliable as all of the guidance that showed snow between Christmas Day and New Year's Day. Modeling is a tool to help get us to a forecast; right now, no signs of snow doesn't necessarily mean no 'chance' of snow. We will keep you posted!
Need some specifics about the weekend or next week? They're always online at WHNT.com/Weather and in the "Daily Forecast" section on Live Alert 19!
-Jason
Connect with me!
Facebook: Jason Simpson's Fan Page
Twitter: @simpsonwhnt