This is an archived article and the information in the article may be outdated. Please look at the time stamp on the story to see when it was last updated.
The Tennessee Valley is no stranger to extreme weather on Christmas Day, and 2016 is no exception.
Thermometers at Huntsville International Airport as well as Northwest Alabama Regional Airport in Muscle Shoals reached the upper 70s Sunday afternoon, effectively smashing the daily high temperature records for Christmas Day.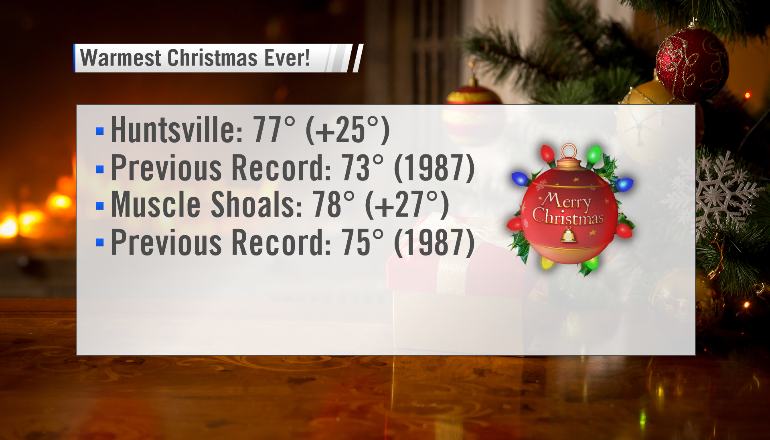 Christmas Day temperatures in Muscle Shoals also tied the overall highest temperature for the month of December for the city, which reached 78 degrees on December 27, 2015. Huntsville's temperature was just shy of the overall warmest December day for the city: 79 degrees, which took place on December 4 and 5, 1998.
Christmas 2016's extreme warmth follows a particularly notable Christmas Day from 2015, when hours of heavy rain caused flash flooding throughout the Tennessee Valley. Huntsville broke a daily rainfall record for December 25 when 5.34″ of rain fell over the course of several hours in 2015.
A mere half a decade before, a different daily precipitation record was broken on Christmas Day 2010 when 2.5 inches of snow fell at the Huntsville International Airport, and 2.4 inches of snow fell at the Northwest Alabama Regional Airport in Muscle Shoals.
The coldest Christmas Day on record for Huntsville occurred in 1983, when thermometers dipped to -1 degrees at night and only reached 15 degrees during the day. The Shoals did not fair much better: Temperatures dropped to 1 degrees at night and struggled to reach 16 degrees on Christmas Day 1983.