This is an archived article and the information in the article may be outdated. Please look at the time stamp on the story to see when it was last updated.
 It feels like we have been talking about this 'ridge' for months.  We have roughly 7 to 10 more days of its oppressive influence: hot, humid and generally dry except for some spotty showers/storms.
The beginning of this ridge's end comes next week.  It migrates toward the East Coast between Sunday and Wednesday, and now there's good agreement in longer-range guidance that it will finally flatten out allowing 'cooler' air south for the middle of the month.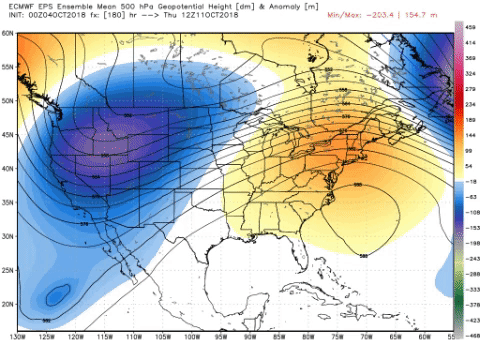 What kind of 'cool down?'  If you squint really hard looking at some of the longer-range model guidance, you can see a trend toward 'cooler' weather; it may not be getting truly cold anytime soon, but we see a good chance of near-normal or slightly below-normal temperatures beginning around the 15th-18th.  That would mean highs in the 60s/70s and lows as cool as the upper 40s and lower 50s: not to far off what the record books say we should have for mid-October.
Tropical action in the Gulf?  The National Hurricane Center is watching an area over the western Caribbean that has a chance (40% in the next 5 days) of becoming a full-blown tropical cyclone (depression, storm or hurricane).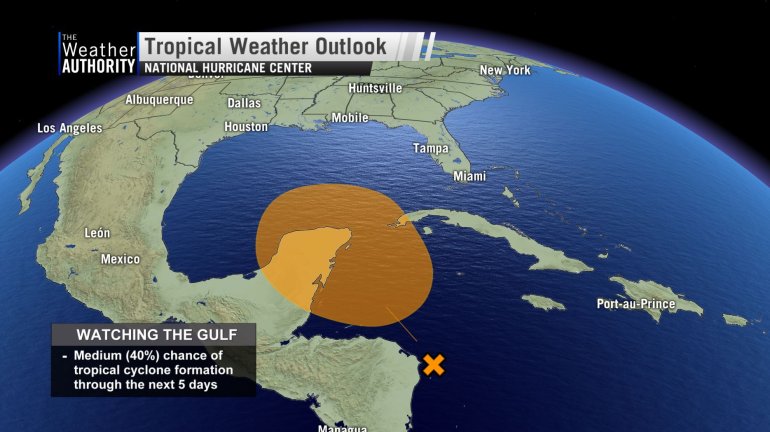 There is a chance that it could have some impact on the northern Gulf Coast late next week or next weekend (October 11-15). We'll keep an eye on it!
The WPC Seven Day Rainfall Outlook already accounts for this 'something' coming north from the tropics late next week.  It's unlikely that we see a landfalling hurricane, but the end of next week could be pretty stormy on the Alabama/Florida Gulf Coast.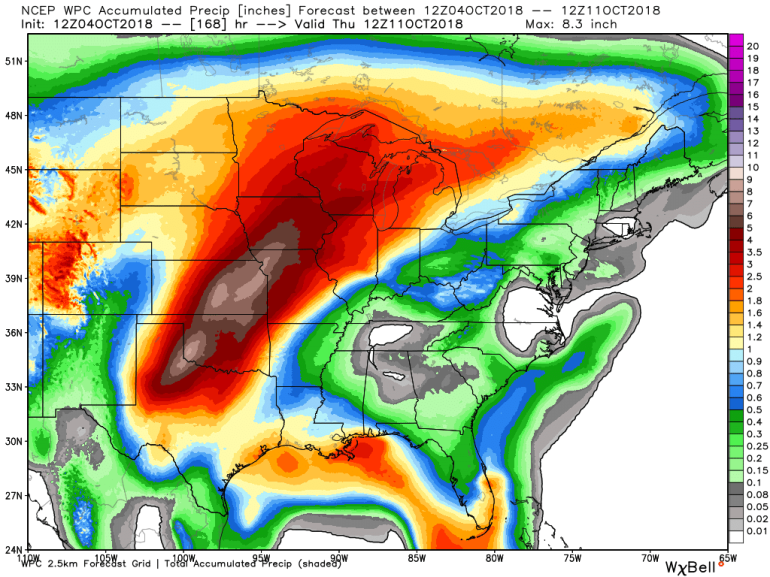 If you're traveling to the beach for Fall break, you can keep track of the weather there and at home with WHNT.com's Interactive Radar or swipe over to the radar feature on Live Alert 19! Both of those interactive features give you the up-to-the-minute latest tropical tracks as well as local watches and warnings from the National Weather Service office responsible for the area you're in or watching.
Looking for the forecast? It's always online at WHNT.com/Weather and in the "Daily Forecast" section on Live Alert 19!
-Jason
Connect with me!
Facebook: Jason Simpson's Fan Page
Twitter: @simpsonwhnt