This is an archived article and the information in the article may be outdated. Please look at the time stamp on the story to see when it was last updated.
Father's Day is almost here! It's this Sunday, June 18. Lately hot temperatures, high humidity, along with a few storms have been the story. This weekend doesn't look any different. Showers and storms are possible Sunday, but there will be dry times this weekend. Here is an early look at the GFS valid Sunday morning, Sunday midday, and Sunday evening.
The green shows the potential for scattered showers and storms across the southeast on Sunday. Right now the chance is 30%. I wouldn't cancel any outdoor plans with Dad, but Live Alert 19 is a great app to have just in case you get caught in a storm this weekend. Here is a detailed look at your Sunday forecast.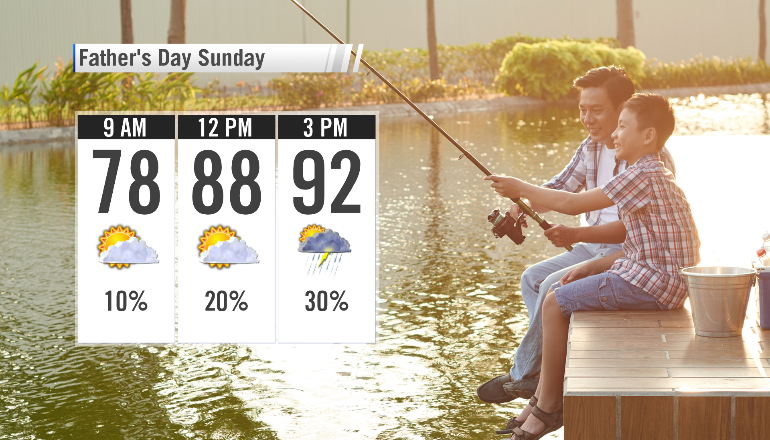 It's early and things can change. If a cold front moves a little faster by Sunday, rain chances increase. That's a possibility! Check back for further updates as we get closer to Sunday.
Here is a look at previous Father's Day weather for Huntsville. Highs in the 90s is a common theme.
2016: Partly Cloudy – 90° – Rain: 0.00″
2015: Partly Cloudy – 97° – Rain: 0.00″
2014: Partly Cloudy – 90° – Rain: 0.00″
2013: Mostly Cloudy – 92° – Rain: Trace