This is an archived article and the information in the article may be outdated. Please look at the time stamp on the story to see when it was last updated.
It seemed like it would never end last year, but the drought is finally over.  Huntsville International Airport (the official climate reporting station for the city) shows a surplus of rainfall in 2017; June alone has a 2.20" surplus with more rain coming on Friday.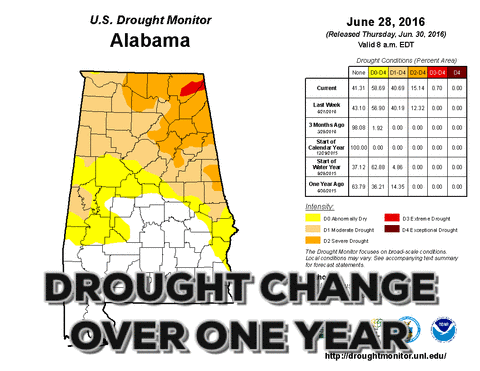 An active, rainy Spring plus the heavy rain from Tropical Storm Cindy finally did the drought in, and now only a sliver of Northwest Alabama is considered 'abnormally dry' (D0 level drought).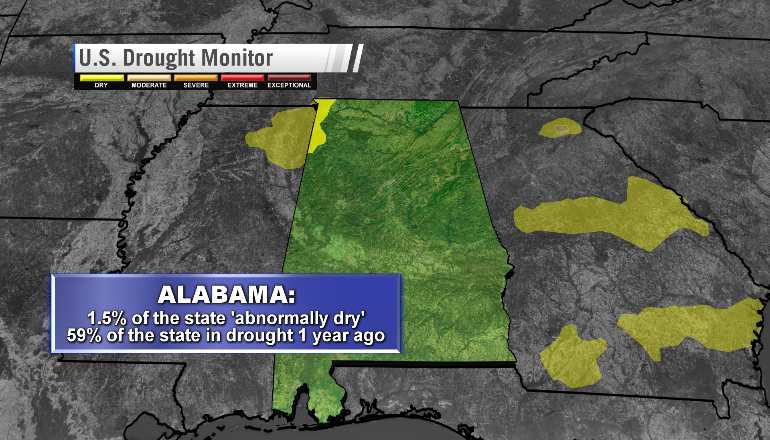 The wetter weather has also kept it cooler than normal!  Huntsville's daily high temperature only topped 90ºF eleven times so far this summer; this time last year we already had 26 ninety-degree days.
Deep tropical moisture in the region through the weekend and next week means a daily dose of widely scattered, hit-or-miss, uneven, but still locally-heavy thunderstorms.
That moisture may also make it 'feel' a lot hotter than it looks! 'Feels like' temperatures may be as high as 100-105ºF by Monday and Tuesday!
Need some specifics about the weekend or next week? They're always online at WHNT.com/Weather and in the "Daily Forecast" section on Live Alert 19!
-Jason
Connect with me!
Facebook: Jason Simpson's Fan Page
Twitter: @simpsonwhnt