This is an archived article and the information in the article may be outdated. Please look at the time stamp on the story to see when it was last updated.
This week has been wet and gloomy so far. What was once Hurricane Irma dropped widespread rainfall amounts of 2-3 inches across the Tennessee Valley Monday and Tuesday. The rain and cloud cover also kept temperatures down. Huntsville broke the record for coldest high temperature Monday and Tuesday! Monday's previous record was 68°F set in 1944 while Tuesday's previous record was 70°F set in 1958; Huntsville only made it to 65° both days.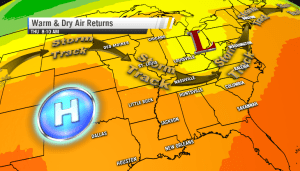 What's left of Irma is now stalled out to the northwest of the Valley. It's still close enough to rotate in isolated showers throughout Wednesday. That means another cool and damp day ahead with highs unlikely to make it out of the 60s. Once Irma moves on, our weather will look completely different!
Thursday is when we'll really start to see the weather change for the better. What's left of Irma gets pulled to the northeast and away from the Valley. An area of high pressure moves in behind Irma, leaving us with clearing skies and warming temperatures.
Highs jump from the 60s again on Wednesday to 80 by Thursday! Then we're seasonably warm through the weekend ahead.
Winds will remain light and humidity low, making this weekend a perfect one in the Valley to get outside! If you're heading down to Tuscaloosa on Saturday for the Alabama game you'll see similar conditions: highs in the mid 80s under partly cloudy skies. However, if you're heading farther south for a late summer beach visit you might run into an isolated shower or storm from Gulf Shores through Pensacola.