This is an archived article and the information in the article may be outdated. Please look at the time stamp on the story to see when it was last updated.
The National Weather Service in Huntsville classified Thursday's long-lived thunderstorm complex as a derecho.  Over 70 reports of wind damage (some greater than 100 MPH in the Gurley area).
Photos and storm reports from June 28th on WHNT.com
What is a derecho?  Stephen F. Corfidi and others from NOAA/NWS/NCEP/Storm Prediction Center define a derecho by the characteristics of the damage observed after the storms.
"Derecho: A family of damaging downburst clusters associated with a forward-propagating, mesoscale convective system (MCS) that, during part of its existence, displays evidence of one or more sustained bow echoes with mesoscale vortices and/or rear-inflow jets. The damage swath must be nearly continuous, at least 100 km (∼60 mi or about 1° latitude) wide along most of its extent, and 650 km (∼400 mi) long. The damage also must occur after any preliminary storms have organized into a cold-pool-driven MCS."
In layman's terms, a derecho is a cluster of thunderstorms that organize into a large complex.
It has bowing segments that show up on radar where high winds occur, and those 'bow echoes' persist for most of the duration of the event.
The storm complex does sporadic wind damage over a 100-mile-wide area traveling forward at least 400 miles.
Forward can be whichever direction the storms are moving: sometimes it's east, sometimes it's south, and sometimes (as in Thursday's storms), it had some south-southwestward movement as it approached the Gulf Coast.
The Storm Prediction Center outlined a SLIGHT RISK of severe weather for Thursday and a Severe Thunderstorm Watch ahead of the storms' arrival in Southern Tennessee and North Alabama.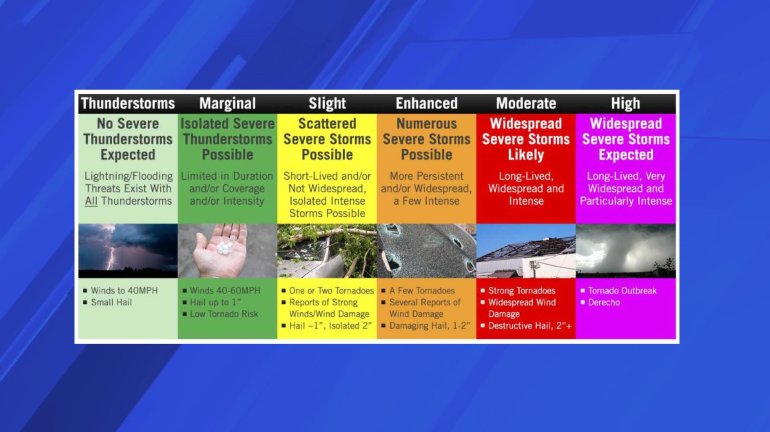 Given the definitions of the risk categories, Thursday might have qualified as an ENHANCED or MODERATE RISK kind of day.  Storms were widespread, a few were particularly intense, and they were long-lived.
At any rate, severe weather was expected whether the statistics match the precise definitions or not.  This is a great reason to keep Live Alert 19 and your NOAA Weather Radio ready to go at any time; sometimes these summer storms will be the worst weather you get all year.  Don't let your guard down just because there's not a Tornado Watch or Warning.  The wind doesn't have to be spinning in a vortex to cause serious damage.
Track heavy storms with WHNT.com's Interactive Radar or swipe over to the radar feature on Live Alert 19!
-Jason
Connect with me!
Facebook: Jason Simpson's Fan Page
Twitter: @simpsonwhnt