This is an archived article and the information in the article may be outdated. Please look at the time stamp on the story to see when it was last updated.
A big blast of cold weather comes in two waves: one on Monday, the second Monday night.  Some showers move in ahead of the first cold front Monday morning, so an umbrella won't be a bad accessory to have on hand.  Temperatures drop into the 30s around sunrise, but there is no risk of any travel hazards beyond wet roads early in the day.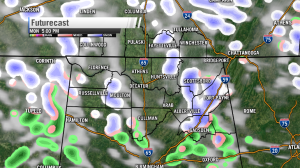 By Monday afternoon, another wave of showers moves in and gradually mixes with then changes to snow between 1 PM and 5 PM.
Rain changes to snow around The Shoals northward into Tennessee first then does so eastward through the afternoon.
Some brief snow accumulation on roads and bridges is possible Monday afternoon and evening where heavier snow showers pass; however, if you need to travel, most roads will be in fine shape through 9 PM.  In fact our total accumulation potential is so small that there is not much chance of any significant travel problems around here.
Yes, snow like this gets a lot of buzz, but the bigger issue looks like the wind chill and the extremely cold temperatures for the week ahead and into the weekend.
It will feel like the 20s and 30s all day Monday and Tuesday, and just when it looks like we have a chance to warm up, an even colder air mass breaks free from the Arctic and moves south.  The core of the coldest air may end up missing us, but it still looks very cold going into Valentine's Day, and there may even be a threat of some wintry weather again shortly after the 14th.  A "threat" isn't a guarantee; it's just something we see as one of several solutions as the coldest air moves away and some moisture moves in.  Timing will be everything with that one, and we'll keep you posted in our Forecast Discussion and on WHNT News 19 through this very cold week ahead!
-Jason
Connect with me!
Facebook: Jason Simpson's Fan Page
Twitter: @simpsonwhnt