This is an archived article and the information in the article may be outdated. Please look at the time stamp on the story to see when it was last updated.
It's a noticeable change! The drop in humidity shut down the daily downpours, brought down the heat index, and set us up for more comfortable mornings (and less torrid afternoons). Friday morning's lowest temps fell as far down as 62ºF in Russellville, up to 68ºF in Huntsville.
The catch to the drier air is this: more comfortable in the morning, hotter (but a 'dry heat') in the afternoon. Expect highs in the 90s on Friday even as a weak cool front passes through the region. It's not much of a front; temperatures actually rise behind it for the weekend.  The chance of a shower or two is low with that front on Friday, so the rain chance stands at ten percent in the Huntsville area; it's slightly higher to the northwest.
Weekend weather: You probably noticed the weekend rain chance dropping from the 40-50% range earlier this week down to some very low numbers lately. Given the influence of drier air from the north, we now expect the weekend to be dry. Need to cut grass? It's your time to shine. Grass or garden looking a little thirsty? Water without fear of having too much water with a passing afternoon thunderstorm. Planning one more weekend outing before school starts? This is prime summertime weather.
Expect highs in the low-90s, morning lows in the 60s, and a tolerable, typical level of late July humidity. The wind won't be much of a factor either: a light north wind staying below 15 miles per hour.
Rainy at times next week: Deep, tropical humidity surges north again late Sunday into Monday; that spells a better chance of more widely scattered, uneven, hit-or-miss afternoon and evening thunderstorms on a daily basis next week. Coverage looks slim on Monday, but storms should be more widespread on Tuesday and Wednesday.
Average rainfall in the next seven days looks to come in around 0.5" to 1.5" with a few spots getting precious little and others getting a lot more from individual thunderstorms.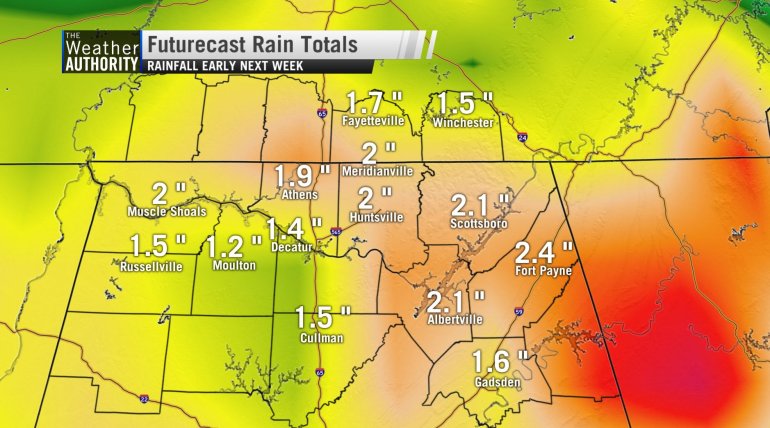 Need some specifics about the weekend or next week? They're always online at WHNT.com/Weather and in the "Daily Forecast" section on Live Alert 19!
-Jason
Connect with me!
Facebook: Jason Simpson's Fan Page
Twitter: @simpsonwhnt