This is an archived article and the information in the article may be outdated. Please look at the time stamp on the story to see when it was last updated.
TENNESSEE VALLEY - Plan to be out at night?Be sure to look for the five bright planets all month long.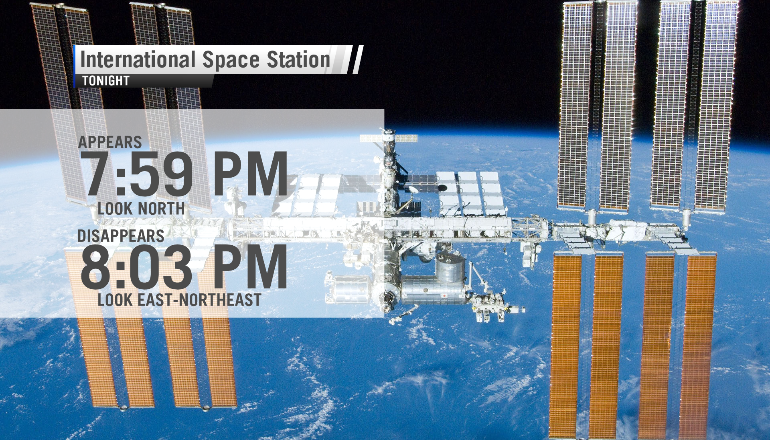 BONUS: If you look up at the correct time, you may also be able to spot the International Space Station as it flies over our area of Earth.
As long as the sky is clear, Jupiter will be visible all night long; Mars and Mercury will be visible at dusk; Saturn can be seen from around midnight through dawn; and Venus can be seen easily just before sunrise.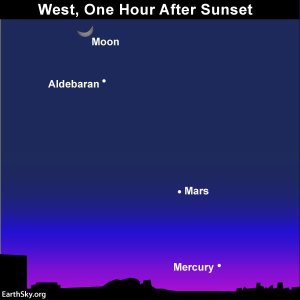 Mercury around sunset
For the Northern Hemisphere, Mercury will put on a good showing in the western evening sky after sunset for several weeks.
Mercury is tricky: if you look too soon after sunset, Mercury will still be obscured by the haze of evening twilight; if you look too late, it will have followed the sun beneath the horizon. Watch for Mercury low in the sky, and near the sunset point on the horizon, as soon as the sky begins to darken after sunset.
Click here for recommended almanacs; they can give you Mercury's setting time in your sky.
Mars visible through early evening
After appearing as a fiery red light in our sky last May and June 2016, Mars is now a fading ember of its former self. Look for Mars rather low in the west as soon as darkness falls. Mars is edging closer to the sunset day by day. It'll disappear in the twilight glare in a month or two.
From mid-northern latitudes (U.S. and Europe), look for the red planet Mars to set in the west roughly an hour after nightfall in early April and around nightfall by the month's end.
Jupiter in the eastern sky
Jupiter reaches opposition on April 7 and comes closest to Earth for the year on April 8. Thus, this month, Jupiter shines at its brightest best for all of 2017.
Watch for a full-looking moon to join up with Jupiter for several days, centered on or near April 10, just a few days after Jupiter's opposition date. See the above sky at the top of this post. Wonderful sight!
From mid-northern latitudes, like those in the U.S. and Europe, Jupiter rises at dusk or nightfall in early April. By the month's end, Jupiter is seen above the horizon at dusk.
If you have binoculars or a telescope, it's fairly easy to see Jupiter's four major moons, which look like pinpricks of light on or near the same plane. They are often called the Galilean moons to honor Galileo, who discovered these great Jovian moons in 1610. In their order from Jupiter, these moons are Io, Europa, Ganymede and Callisto.
Saturn late at night through dawn
Saturn is getting close to its June 15 opposition and is beginning to shift over into the evening sky.
But your best view of Saturn, from either the Northern or Southern Hemisphere, is still during the dark hour before dawn. That's when Saturn climbs highest up for the night.
Saturn, the farthest world that you can easily view with the eye alone, appears golden in color. It shines with a steady light.
Binoculars don't reveal Saturn's gorgeous rings, by the way, although binoculars will enhance Saturn's golden color. To see the rings, you need a small telescope. A telescope will also reveal one or more of Saturn's many moons, most notably Titan.
Bright Venus visible at dawn
From mid-northern latitudes (U.S. and Europe), Venus rises about one hour before the sun in early April and nearly two hours before sunrise by the end of the month.
Click here for an almanac giving rising time of Venus in your sky.
The information in this article originally appeared on EarthSky.org.