Monday, May 29, 2023
Meteorologist Aaron Ayers/Meteorologist Jessica Camuto
Cooler Than Average Temperatures Continue
mix of sun and clouds through the day today, for a partly cloudy day. It looks comfortable for the Cotton Row Run this morning with temperatures in the 50s and dewpoints in the low 50s through much of the morning.
The rest of Memorial Day will be cool with highs only reaching the upper 70s to around 80 degrees. There will be a few clouds mixing in through the day, making for a partly cloudy day. We could see a stray shower Monday afternoon but the majority of the area will remain dry.
While it will not be very warm on Monday, it is not the coolest Memorial Day on record. That was in 1997 with a high of just 65 degrees. The warmest was in 1914 when the high was 99 degrees.
Beach Forecast
Planning to spend the long weekend at the beach? Conditions look great down along the Gulf Coast all weekend long! Highs will be in the 80s and morning lows will start out in the 60s and 70s. There will be plenty of sunshine to soak up through the weekend just be mindful of the rip current risk.
Summer-Like Temperatures Return
After starting the week off with cooler-than-average temperatures, we will see a nice warm-up across the Tennessee Valley. With winds shifting out of the south-southeast, warmer air and moisture will be ushered into the region. So, while we will see an increase in temperatures it will also lead to muggy conditions late week.
The increase in moisture content in the atmosphere will also support the chance for pop-up afternoon showers and storms will be possible. Not everyone will see rain and the majority of the area will remain dry.
Stay with the Weather Authority for the latest information!
Don't forget our Live Alert 19 weather app!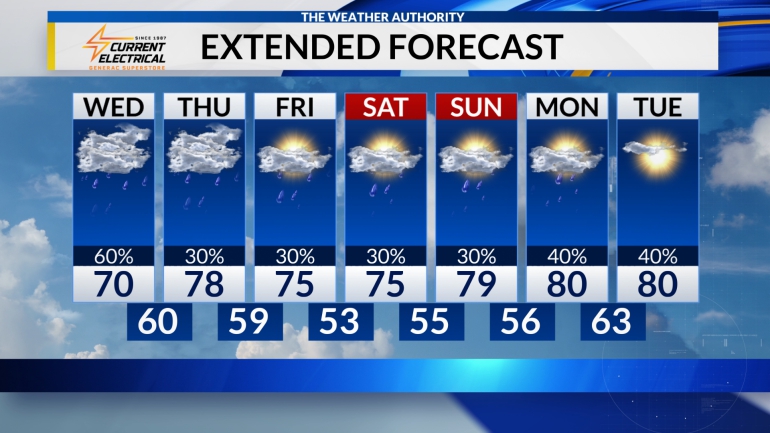 LOOKING FOR THE EXTENDED FORECAST? Check your local conditions on the Live Alert 19 app. Don't have it on your mobile device? Click here to learn how to download the Live Alert 19 app